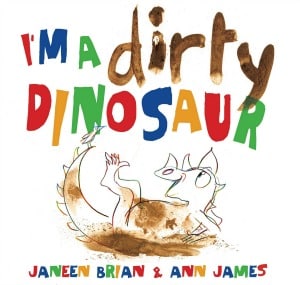 About the book
From cover to cover, this book is simply brilliant. Janeen Brian obviously knows what makes children tick: a cheeky character, catchy words and a whole lot of muddy mess.
The simple, rhythmical text is engaging and fun to read aloud, and lends itself nicely to being sung.
This dirty dinosaur starts his day with a dirty snout. Body part by body part, he slowly covers himself in mud, and has a lot of fun along the way.
With an amusing use of verbs, the text also incites action for its young readers.  Children might enjoy re-enacting scenes from the story by sniffing, snuffing, shaking, tapping, stamping, splashing and sliding.
Ann James' magic pencil and mud illustrations  celebrate fun and messiness and invite children to explore painting with mud.
Book Details:
Author: Janeen Brian
Illustrator: Ann James
ISBN: 978-0670076154
Format: Hardback
Publisher: Puffin Books/Penguin Group, March 2013
RRP: $19.99 (aud)
Suitable for ages: 2-4
Follow-up Activities: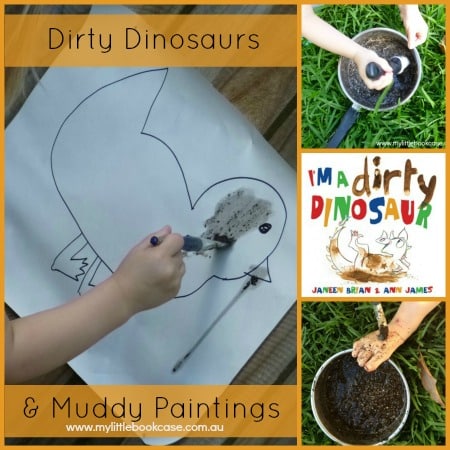 The dinosaur most definitely looks like he's having lots of fun in this book, which is probably why Cam asked if we could make some mud.
I'm not an outdoorsy person, so although I said yes, I was very cautious. I came across this great article at Adventures at Home with Mum, which put my mind at ease.
We used our outdoor saucepan to collect some dirt from the garden. Cam was really just so excited that I'd said yes!!
We added cinnamon and vinegar to the dirt (a great tip I learned from Adventures at Home with Mum to ensure we didn't encounter any nasties).
Then Cam proceeded to add lots and lot of water.
And she enjoyed mixing the slush.
I drew 6 other animal outlines and attached them to the back fence.
I read the story a number of times, each time replacing the dinosaur with one of the animals attached to the back fence (E.g. I am a dirty duck). As I read the story, Cam painted the correct part of the animal with her muddy paint. We talked about the different body parts of each animal e.g. snouts, beaks, noses
Cam experimented with painting techniques
I just shake about the place.
I splatter it with mud.
I flick it in the muck.
Then Cam wanted to be the dirty dinosaur, and she painted herself
Cam asked me to read the book over and over and over again so she could act it out.
Then once the sprinkler was out she created her own stories and put on a show for her baby brother. Each of her stories always ended with 'Oh, my gosh! I think I need a wash.' Which, of course, warranted another run through the sprinkler.
Cam's enthusiastic stories had Ike in fits of laughter.
She absolutely delighted in this muddy play, and I wonder why we hadn't done it before.
Learning Experiences
Listen to rhyme as a language feature in texts
Engage with the text and recount the story in different contexts
Make meaning from the text and adapt that to develop personal stories
Develop curiosity and experimentation with dirt, water, cinnamon and vinegar
Explore natural materials
Experiment with mud as a painting medium
Trial a range of painting techniques
Discuss the differences between body parts of different animals