Review of 101 Things to Do with Baby
We thoroughly enjoyed reading this book before Ike arrived, and it has definitely guided Cam into being a most attentive and patient big sister.
*****************

It has been over 30 years since this book was first published, and I'm thrilled that Little Hare published it again recently- just in time for our own little addition and also just before the author, Jan Ormerod, passed away.
There are many, many, many books on the market that help children adapt to the arrival of a new sibling. This one really stands out from the others; it is a picture book and how-to-guide in one. And, rather than focussing on the negative changes that a baby might bring, it gives big siblings a wonderful list of ideas  for keeping little babies occupied- 101 ideas in fact!
The ideas are practical, fun, creative and interesting. The text is short and sharp, and each idea is accompanied by an illustration. Some of the illustrations stand alone, while others are sequenced together to create little mini stories within the book.
The  ideas cover activities that big brothers and sisters can do with babies, ways that families can spend quality time together, and behaviours to watch out for:
Chuckle his chin
Spy on him with your little eye
Have a chat
Take him to the laundry
Help prepare his bath
Shoo away the cat
Try him with a book
And there are also
things you must watch out for: hair yanking, nose pulling, dolly dribbling and grabbing Granny's glasses
Jan's classic illustrations contribute to making this a delightful book to read together as a family. The pastel colours depict a warm and loving sentiment and the facial expressions show an endearing and loving family.
So many books refer to the arrival of a new baby brother or a baby sister. The gender of this baby is not obvious, making it a lovely present to give to ANY family who is awaiting the arrival of their new family member.
Book Details:
By: Jan Ormerod
ISBN: 978-1921894114
Format: Paperback
Publisher: Little Hare, November 2012
WE ALSO LOVE AND RECOMMEND THESE SIBLING BOOKS: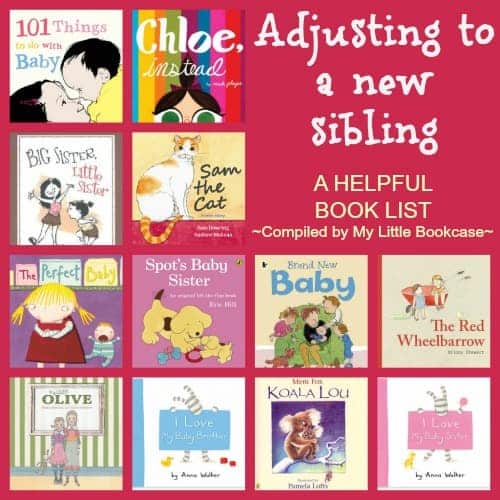 My Sister Olive by Paula Russell and Gaye Chapman (A beautiful book that highlights the adoration little sisters have for their big sisters. )
Sam the Cat by Sam Bowring and Andrew McLean ( A funny story of a cat who needs to make some sacrifices for his new brother- including his name!)
Koala Lou by Mem Fox and Pamela Lofts (Koala Lou works hard to maintain her mummy's love when her siblings come along)
The Perfect Baby by (A funny story about a big sister who tries to exchange her baby brother before realising that he's quite lovely after all)
Chloe Instead, by Micah Player (A bright, colourful and sweet book about a girl whose new little sister is not what she had been hoping for)
The Red Wheelbarrow, by Briony Stewart (Two tales of sibling rivalry are told side by side in this utterly delightful wordless picture book)
Big Sister Little Sister, by Leuyen Pham (A delightful window into the world of sisterhood)
Brand New Baby, by Bob Graham (An amusing story of two young children who get used to life with their new baby brother)
I Love My Baby Brother by Anna Walker (Sweet, simple and suitable for toddlers)
I Love My Baby Sister by Anna Walker (Sweet, simple and suitable for toddlers)
Spot's Baby Sister, by Eric Hill (Lift the flaps to find out what Spot's new sister is up to)
There's Going to Be a Baby by John Burningham and Helen Oxenbury (A mother and son spend the seasons preparing for a new baby)