We love hearing about everyday reading and literacy experiences taking place in homes. Catherine from Adventures With Kids shares with us one of the latest projects she embarked upon with her boys while they were all home sick. Thanks for sharing Catherine.
Creating their own books can be such a rich literacy experience for children. It certainly consolidates everything they learn about print concepts while reading with their parents. For more book-making inspiration, check out our flip-the-flap memory book.

Have you helped your children to make a book of their own?
I've recently discovered the blog, Bookmaking With Kids, and saw a post about lift-the-flap riddle books.
We spent one of our recent sick days looking for jokes on the internet and creating our own lift-the-flap joke books.
Bookmaking With Kids has very clear instructions on how to make books – including a lift-the-flap book – from a single sheet of paper.
Once we had folded the book and found some favourite jokes we wrote them into the book – the question on the top and the answer under the flap.  My children then decorated the cover of the book and drew pictures to go with each joke and answer.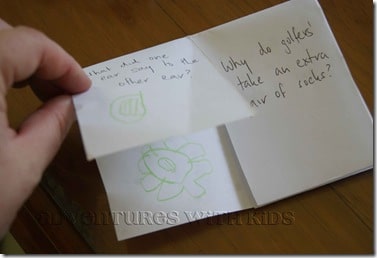 Our favourite joke – from Activity Village:
How do you make an apple puff?
Chase it around the kitchen!
I think my next project with these little lift-the-flap books might be something to help my son recognise his first words.  I am thinking of putting the name of a colour, shape, number or other simple word on the top and putting a picture under the flap to help read the word.