One day, Cam came to me and asked if we could paint our fingers to look like people. She'd seen the idea on Playschool.
Painting our fingers was just the start of some wonderful play. Not all of our play was related to books, stories or reading so instead of posting about them here, we've shared the fun and games at Learning 4 Kids.
I thought I'd give you a sneak peek into one way we put our painted-finger puppets into action: by creating a mini puppet theatre and putting on a painted-finger puppet show. Cam used her painted-finger people to create and tell a story.
What you will need:
How to create your mini puppet theatre:
Cut out the centre from the top of a box lid to create a frame ( We were lucky to have a box lid that already featured a cut-out)
Rip or cut small pieces of white paper and glue it to your frame (similar to papier mache). Make sure you cover all sections of the frame.
Once the paper and glue have dried, you will have created a base for yourself to paint.
This will allow you to paint your theatre in any colour you choose (of course ours was pink!)
Using the fabric, cut two curtains and a curtain pelmet, and glue into place. Pull the curtains to the side and hold in place by tying ribbon around the curtains.
Now your mini puppet theatre is ready, and you can begin performing your painted-finger puppet shows.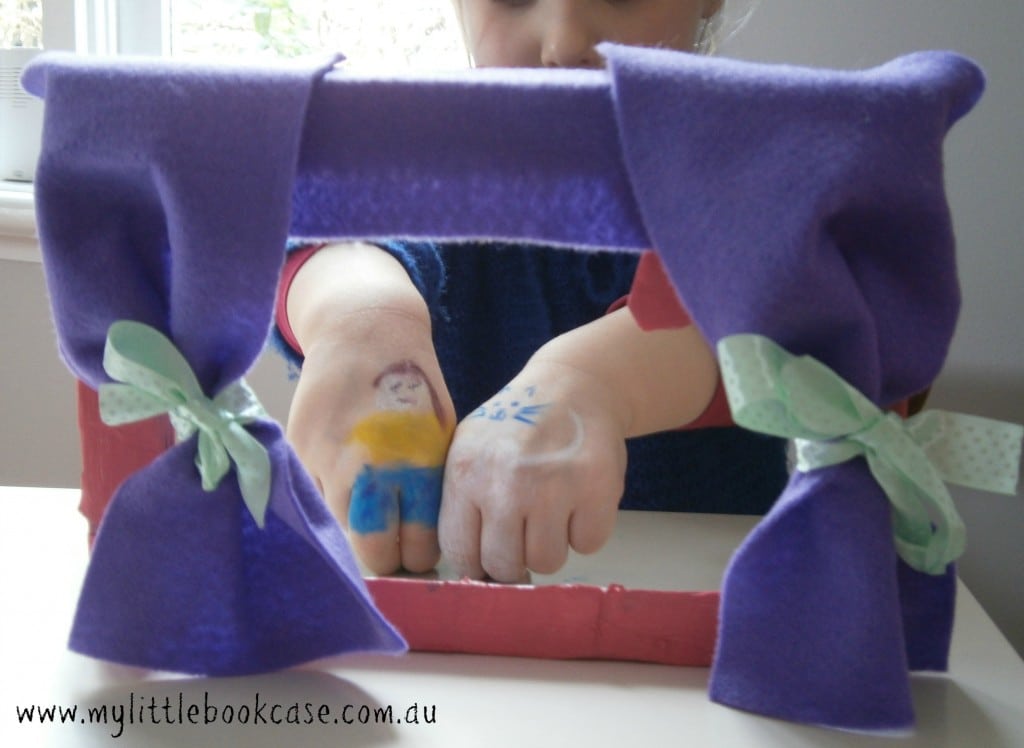 Make sure you head over to Learning 4 Kids now for seven other fun ways to play with your painted-finger puppets.