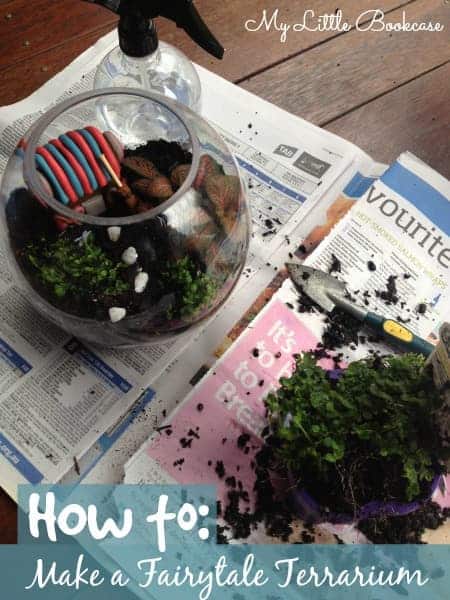 I've been coveting terrariums for some time now (These ones from Frog, Goose and Bear and Pollyposs are particularly beautiful), but I've been far too afraid to try one myself. You see, I am NO green thumb.
But I just knew they'd make perfect gifts for my mum and mother-in-law who both love their gardens.
Cammy and I took on this little project and, not only are we a little obsessed (wait until you see how many we've made!), but we love our creations almost too much to give them away. Oops!
Fairytale Terrariums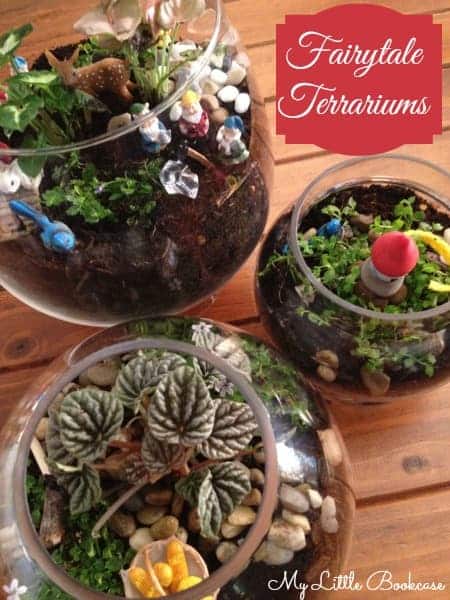 Our terrariums have a fairytale twist. Cammy loves her fairytales so she was really engaged and involved in the project, and it was a great way to help Cammy consolidate her understanding and comprehension of the fairytales and their settings.
Not only are these terrariums absolutely beautiful (I smile every time my eyes are cast upon them), but they actually make beautiful and natural play scenes. Making the actual scenes was hands-down Cammy's favourite part of the project. We made a range of terrariums to give as gifts but you could make just one and change the scenes regularly.
What you need to make a fairytale terrarium: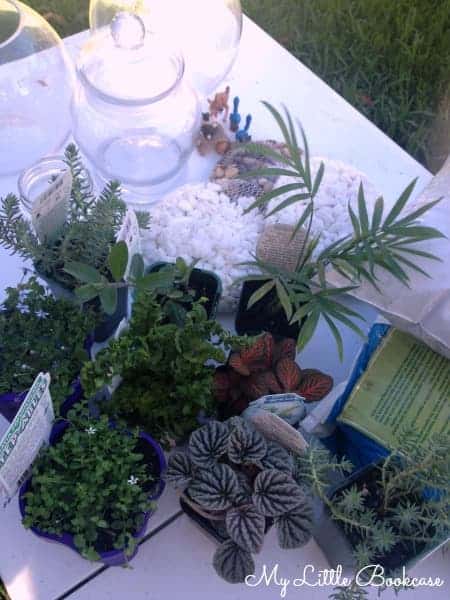 The majority of these items can be found at a discount store, making the terrariums quite affordable to make. The most expensive items are the plants.
Stones/crushed rock/pebbles (They can just be from a path- they don't need to be fancy)
Activated charcoal (From a nursery or pet store)
Potting Mix (To suit the types of plants you will be using)
Moss or plants (Use plants that like similar conditions. To be safe, we bought plants specifically for terrariums)
Polymer Clay (Only if you want to make your own figurines)
How to make a Fairytale Terrarium
1. Choose a fairytale and discuss its setting, story and symbols
2. Decide and purchase figurines that will help create a scene for this fairytale (You may already have some in your toy box)
3. Make your figurines if you have chosen to make them yourself (Read the instructions on your clay packaging).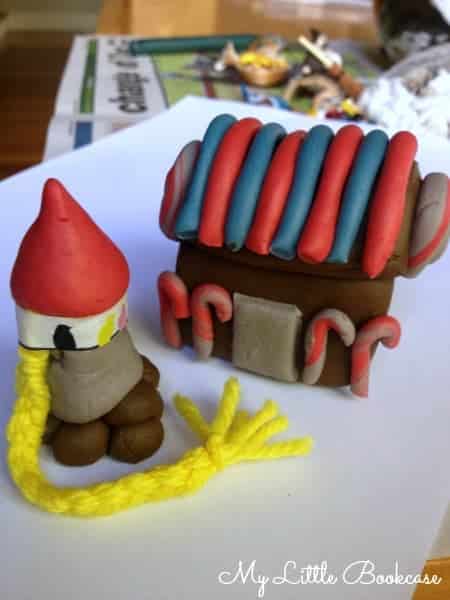 4. Visit the nursery to purchase plants and other items you may need for your terrarium (potting mix, activated charcoal, pebbles)
5. Clean your glass jar before beginning
6. Create the following layers in your glass jar (Sprout Home provides great instructions and explains the purpose of the layers).
Stones/crushed rocks
Activated charcoal
Potting mix
7. Plant your plants (Make sure your soil layer is deep enough to cover the roots of your plant)
8. Decorate with figurines
9. Spray lightly using a water spray bottle (We added a tag to create the perfect Mother's Day gift, with care instructions on the rear)
10. Spray your terrarium regularly (but don't overwater)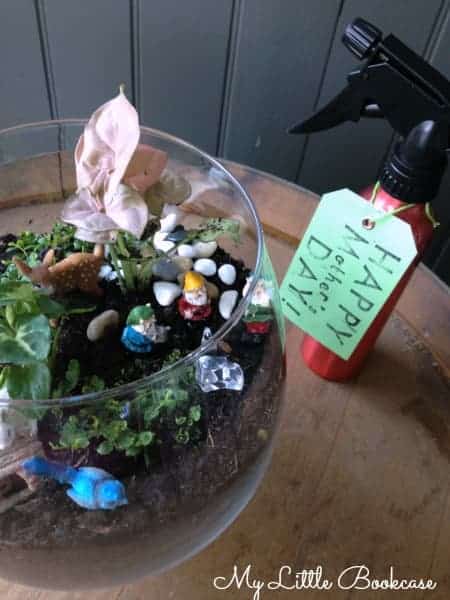 Gift for Nanna #1: Little Red Riding Hood Terrarium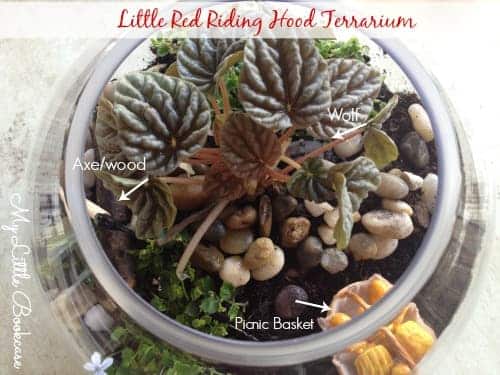 ●Pebble path ●Wolf  ●Picnic basket for Grandma ●Axe and wood
Gift for Nanna #2: Hansel and Gretel Terrarium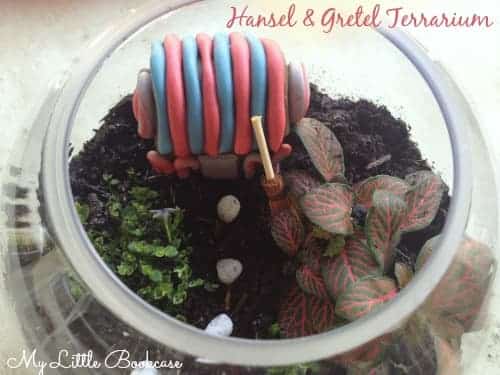 ●Witch's house ●Witch's broom ●Pebbles
A terrarium for us to keep: Snow White Terrarium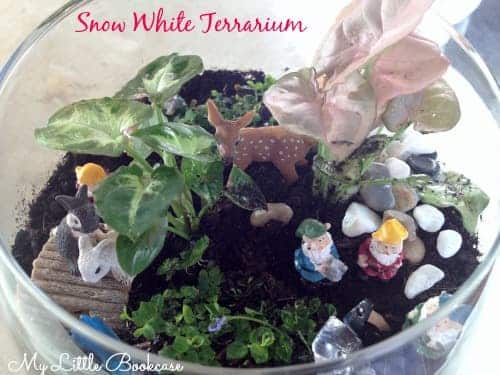 ●Seven Dwarfs ●Pick ●Diamond ●Forest friends (deer, rabbits, bird)
A terrarium for Cammy's writing station: Rapunzel Terrarium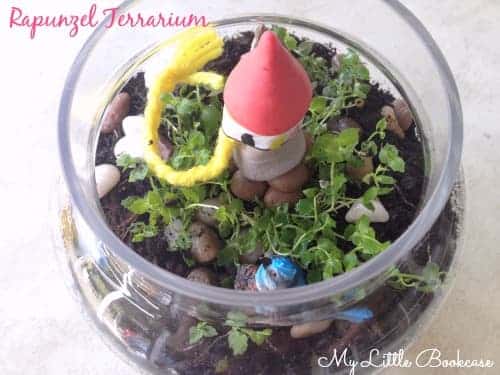 ●Tower ●Blonde plait ● Forest friends (owl/bird)
Tips and Tricks
I'm surprised how easy these terrariums were to make, and how successful they were. But, each time we made a new terrarium we improved our processes and decisions. Here are a few of our tips.
Purchase plants and figurines first, then find a glass jar large enough (We had trouble fitting out scenes into the jars we bought)
Buy a glass jar that has a large opening for little hands (The openings in our jars were a little narrow, making it tricky for us to place our figurines without upsetting the plants).
Set out the scene before planting so you don't over-handle the plants (We kept changing our minds).
Choose plants that like similar conditions (Originally we planted a fern-like plant that shriveled very quickly in our terrarium when others were happy).
Make sure you make your layer of soil deep enough to cover the roots of your plant.
If you liked this post you might also like:
Be sure to join one of our communities for more literacy-based inspiration, or subscribe to our mailing list so you don't miss out on future posts.