This project is being been sponsored by Kiddie Food Kutter, together with Ave
Project # 4 was inspired by a reading activity we shared when My Little Bookcase first started. We looked for clues in An Aussie Day Before Christmas and made some snacks we thought Santa would really enjoy eating.  We were disappointed that we didn't get to dine with Santa though. We thought that would have been a lot of fun……and the seed was planted for a very exciting project.
You can read about our Aussie Snacks for Santa here.
THE PROJECT:
For this exciting project, we are asking you to:
Choose a book character with whom you'd like to share a meal ( breakfast, lunch, tea or dinner).
Plan and prepare a meal suitable for the book character.
HOW TO GET ALL KIDS INVOLVED/GOING FURTHER:
This project has the potential to become a wonderful childhood memory for your children. The possibilities are endless, and you can really adapt this project to suit a range of ages. Here are some of our suggestions to make this an unforgettable experience:
Create/write an invitation for the book character, inviting them to attend a meal with you
Chat about what types of foods the character would enjoy and why (look for clues in the book or draw on prior knowledge)
Spend some time browsing through cookbooks. Try to find recipes that would please the book character.
Create your own decorations for the room and table (e.g. placemats, napkins etc.)
Get the kids into the kitchen and encourage them to help with the cooking  (Kiddie Food Kutter has an offer to help you get the kids cooking safely in the kitchen- see Special Offer below)
Dress up as book characters for the meal
For younger children:
Older children will be able to be creative and think outside of the square. You might like to introduce your younger children to some more obvious books which include meals, such as Green Eggs and Ham, The Gruffalo, Possum Magic, Wombat Stew and many of Roald Dahl's books.
ALTERNATIVES FOR SCHOOL AND LIBRARIES
You could hold a Book Character Party, with each child dressing up as a book character and bringing a plate of food to share.
If bringing food to school is just too risky, you could ask students to
Design a dinner party menu
Create and write their own recipe
Go on a book hunt, trying to locate as many books as possible that feature food.
INSPIRATION
We think this project will really stimulate your child's imagination, but if you need some inspiration, check out our Book Themed Party Food Pinterest board.
Remember, many of these images look amazing, but the thought and planning processes are more important than the final product in this project. i.e. It is what you choose to cook and why that is more important than how the meal looks.
PROJECT #4: SPECIAL OFFER FOR PARTICIPANTS:
To help you safely get the kids into the kitchen, Kiddie Food Kutter has a special offer for you:
Available in four attractive colours (blue, green, pink and purple), the Kiddie Food Kutter knife is a fun & safe way for parents to encourage their children to help in the kitchen. Because the knife has no sharp edges, it will cut any food without cutting fingers. The knife doesn't need a sharp blade because it works  by using a sawing action.

For the month of June, you can purchase a set of 4 knives for the price of 3 knives ($29.97- incl. postage) ~That's one knife for free!!!
The knife pack includes one knife of each colour.
International readers

are able to place an order, but postage will be more. Please email

info@kiddiefoodkutter.com for postage costs to your region.
To place your order, send an email to info@kiddiefoodkutter.com. You must include the code Little Bookcase in your email to receive this special offer, along with your contact details. You will then be sent an invoice from Kiddie Food Kutter.
BLOGGERS:
You might have your own blog and wish to write about how you and your family approached this challenge. Feel free to write about it in a post, publish it on your blog and link up here for our readers.



PROJECT COMPLETION:
This challenge will officially end on June 30, 2012
Once you have undertaken your project, upload your photos to our facebook wall or send them to info@mylittlebookcase.com.au with a description of your project experience. (Do not upload photos to our facebook page via your phone- there seems to be a glitch)
My Little Bookcase will choose SIX finalists from the entries based on creativity and originality, child involvement, effort and thinking processes.
A public vote will take place between 8 and 16 July, 2012 and three winners will be selected based on the public vote. (Details of the voting process will be explained at a later date. )
PROJECT PRIZES:
Maria is the artist behind Ave. She has a range of ready-to-purchase illustrations but she also creates pieces on commission.
Maria has recently added to her range of products by painting original illustrations upon vintage plates. These are recommended for display only.
She is kindly creating three special pieces for My Little Bookcase to giveaway as part of Project #4.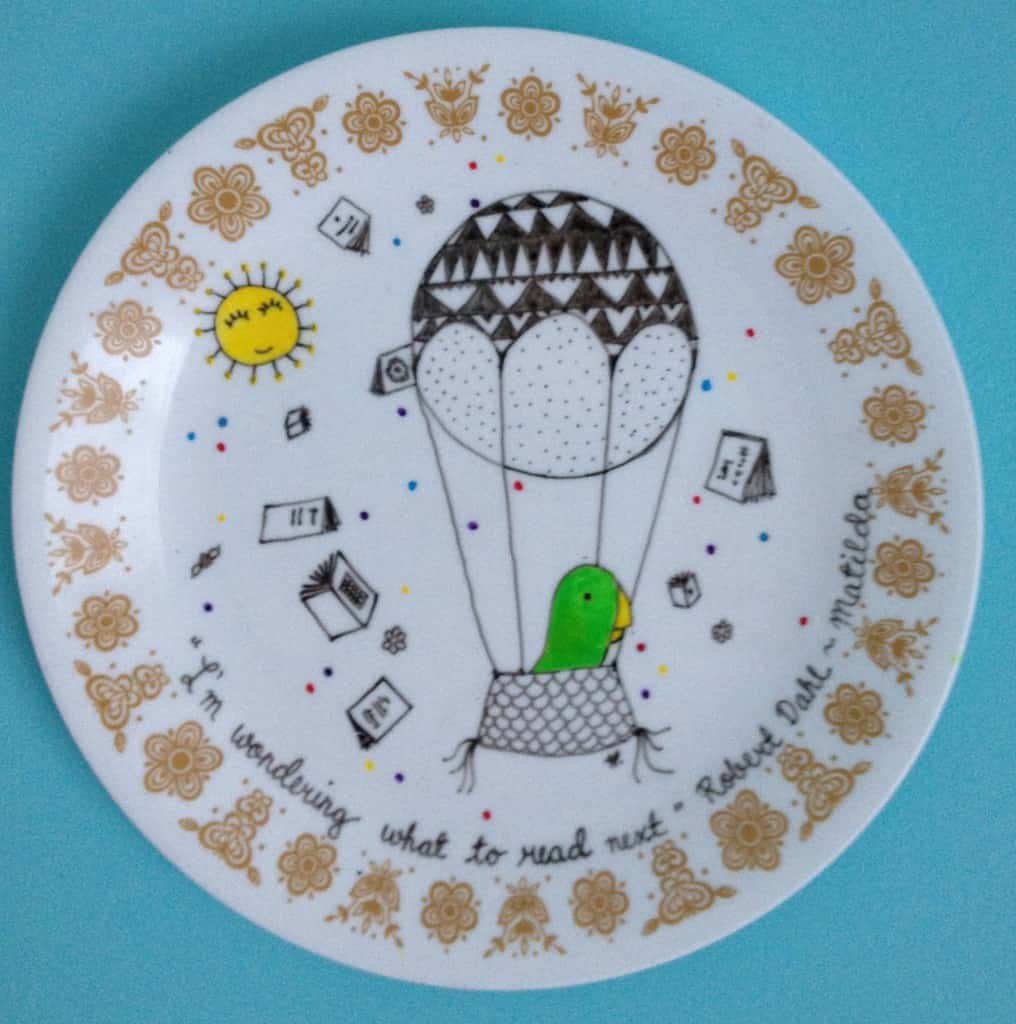 The three plates available for you to win are valued at $39.00 and include original illustrations and the following bookish quotes:
1) 'I'm wondering what to read next.' (Roald Dahl, Matilda)~ See image above~

2) 'A person's a person no matter how small' (Dr Seuss, Horton Hears a Who)
3) 'inside all of us is a wild thing' (Maurice Sendak, Where the Wild Things Are)
Prize Terms and Conditions:
1. For your chance to win an Ave illustrated plate, readers must take part in Project #4 and upload their photos to facebook or attach them in an email.
2. Entrants must live in Australia to be eligible to win the one of three Ave illustrated plates. The plates will only be sent to Australian residents.
3. All entries must be received by midnight (AEST) on June 30, 2012 to be eligible
4. My Little Bookcase will choose six finalists. The final decision will be decided according to a public vote. My Little Bookcase readers will be given the chance to vote for their favourite finalist. The three finalists with the highest number of votes will win an Ave illustrated plate.
5. The finalist with the highest number of votes will have first choice of plates. The finalist with the second highest number of votes will have second choice.
6. The winners will be notified via email and will also be announced on www.mylittlebookcase.com.au, facebook and Twitter
7. The winners are asked to send a reply email with their delivery address within seven days or the plate will be awarded to the next finalist in line.
8. The plates will be sent directly from Ave.