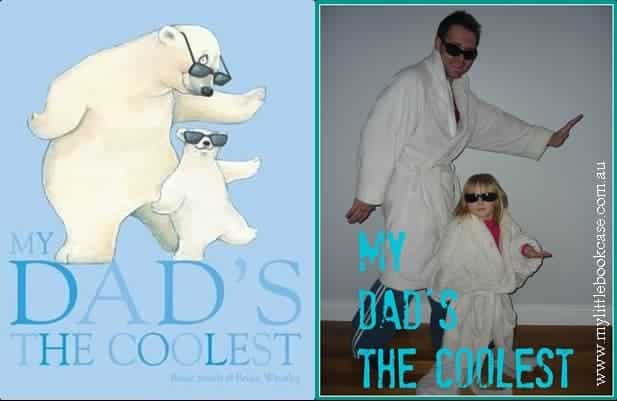 The start of a new month marks the start of a new project for The Little Book Adventure and, although I say this every month, I think this could be our best project yet.
Project #7 asks participants to re-create a picture book cover, title or illustration as a still tableau.
My family and I have been very excited about this project for some time, and we couldn't wait to finally get started.
We began with an easy tableau, which was fun, but required very few props. We wanted to re-create the cover of My Dad's The Coolest by Rosie Smith and Bruce Whately.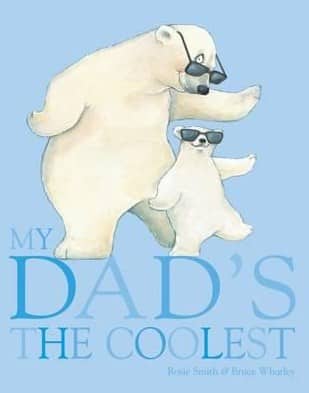 Hubby and I were given matching dressing gowns as wedding gifts; we decided these would be perfect to use as polar bear fur. And, of course, we needed two pairs of sunglasses. That was it, easy peasy!
Cam got sick of being in front of the camera though. She wanted to be behind it for a change, and she was a very good director  indeed.  Her pics are terribly embarrassing, but I really wanted to show you that the benefits of taking part in The Little Book Adventure are plentiful. As well as engaging children in books in interesting ways, they provide opportunities for quality family time.
Once you start, the ideas just keep flowing. We're now searching our bookcases for some more challenging tableaux to create.
If you'd like to take part in this month's project (for September 2012), you can read more about it here.
About the book:
My Dad's The Coolest
Author: Rosie Smith
Illustrator: Bruce Whately
ISBN: 978-1742830742
Format: Hardcover
Publisher: Scholastic Press Australia, August 2012
RRP: $16.99 (aud)
Suitable for ages: 2+
Children of all ages will enjoy reading this short and simple book with their dads.  Bruce Whately has cleverly used the familiar attributes of various animals to light-heartedly and humorously illustrate the endearing text;  clown fish make their offspring laugh, while Chameleons like to play hide-and-seek with their children.