It's Monday, which means, along with  What Do We Do All Day? No Twiddle Twaddle, Smiling Like Sunshine, Mommy and Me Book Club, and Mouse Grows, Mouse Learns, we bring you another edition of The Children's Bookshelf.
The Children's Bookshelf gives bloggers the chance to link up any book or reading-related post so that we have a collection of amazing posts in one place that helps us inspire a love of reading in our children.
I'm finding that the ideas being shared each week are getting better and better.
Below is just a small sample of my favourite posts that were linked up to The Children's Bookshelf last week.
Featured Post of the Week:
Keitha's Chaos: Lunches
This post got me really excited. Keitha prepares the most amazing lunches for her son, and they are all based around the theme and features
you'll find so many more wonderful lunch ideas throughout her website. Make sure you check out Keitha's Story-themed Lunches board on Pinterest. too
of the picture books they read together. There are five lunchboxes featured in this post, but
Also well worth a visit and a read are:
Living Worlds Apart: If You Give a Mouse a Cookie Tot Bag
As I prepare for the arrival of our new baby, I'm finding myself increasingly interested in busy bags. I really like the idea of compiling busy bags for Cam that are based on the theme of our favourite books. This one is incredibly gorgeous but also features skill-based activities too. You'll find some other book-themed tot bags on the website too.
Lessons Learnt Journal: Hungry Caterpillar No Sew Costume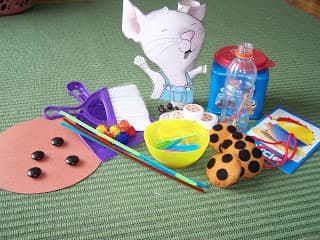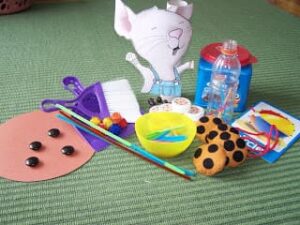 If I ever come across a no-sew project, you know I'm going to feature it. What a great costume to make for parties, story-telling and book events.
Honeybee Books: Spring Flowers
It's time to celebrate spring, and Melissa of Honeybee Books knows how to do it. After visiting a flower festival, her children began Planting a Rainbow of flowers using a range of materials (cupcake liners, sequins, pasta. pom poms etc.). I just know kids will love this activity.
Rainy Day Mum: Mr Men, Mirrors & Making Faces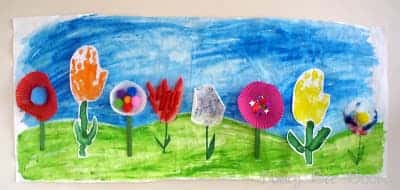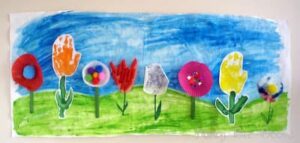 I'm sure you have some Mr Men books in your home. Cerys from Rainy Day Mum shows you how to have lots of fun with these books.
So if you have a children's book or reading-related post you'd like to share, please consider joining The Children's Bookshelf Linky Party:
How to join:
Every Monday visit The Children's Bookshelf, hosted at one of the following blogs: What Do We Do All Day? No Twiddle Twaddle, Smiling Like Sunshine, Mommy and Me Book Club, My Little Bookcase and Mouse Grows, Mouse Learns. You can link up your post at any time during the week and it will be displayed on all six blogs.
Link up your children's book-related posts. We love posts about book news, reviews, reading tips or any other book-related items you think will be of special interest to parents.
Consider adding The Children's Bookshelf button or text link to your post to let others know where the book party is. You can grab the code from the box underneath the button below. Click the text, copy it and paste it into the HTML of your post.
PLEASE Visit other posts and share your comments. We want this to be an interactive community of book lovers.
Follow The Children's Bookshelf on Pinterest, where we will be featuring some of our favourite posts from the link-up every week.
By linking up you are giving permission for any of the co-hosts to pin and/or feature your photo on a future The Children's Bookshelf post.