A number of months ago, I met up with some wonderful blogging friends in a Google + Hangout, and we chatted about the difficulties some children have when it comes to making friends.
It was an effective way to share some of the strategies we use as parents and teachers to help our own children and students initiate friendships.
In a nutshell:
Penny of Wildlife Fun 4 Kids talks about role play and parent involvement. Also visit this site, where Penny shows us how animals can teach humans about friendship.
Kate of Laughing Kids Learn shares ideas that involve the use of props and making wise choices
Pauline of Lessons Learnt Journal talks about ways we can encourage children to think outside the box when making friends.
Books make wonderful resources when helping children through milestones and challenging times. So I, of course, shared 7 books that I think introduce some wonderful and unique strategies to children that might help them to make friends.
Watch our conversation for details on the plots and characters in the books I share. Below, you will find book details that will help you find these books in your library or local bookstore.
JESSICA'S BOX
Jessica's Box encourages children to be themselves when making new friends.
Author/Illustrator: Peter Carnavas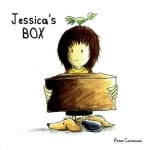 ISBN: 978-1921042911
Format: Hardcover, also available as a Little Treasure's mini book.
Publisher: New Frontier Publishing
Suitable for ages: 4+
THE TERRIBLE SUITCASE
In The Terrible Suitcase, an object becomes stimulus for play between peers.
Author: Emma Allen
ISBN: 978-1862919402
Format: Hardcover
Publisher: Omnibus Books for Scholastic Australia
Suitable for ages: 4+
MR DARCY
Mr Darcy shows that writing letters or invitations can be a great way for shy children to make friends.
Author: Alex Field
ISBN: 978-1921042836
Format: Hardcover
Publisher: New Frontier Publishing
Suitable for ages: 4+
The Little Refugee illustrates that friendships are made when someone takes the initiative to invite a peer to play.
Author: Anh Do and Suzanne Do
ISBN: 978-1742378329
Format: Hardcover
Publisher: Allen & Unwin
Suitable for ages: 5+
MAX & GEORGE
Imaginary friends and telling jokes are strategies presented in Max & George, helping children to for feel more confident in starting new friendships.
Author: Cori Brooke
ISBN: 9780670076352
Format: Hardcover
Publisher: Viking, Penguin Australia
Suitable for ages: 5+
I'M HERE
I'm Here was actually inspired by an Autistic boy. It shows children that there are other ways to communicate and invite play without using words.
Author/ Illustrator: Peter H Reynolds
Format: Hardcover
Publisher: Simon & Schuster
Suitable for ages: 5+
NOT LIKE GEORGIE
Not Like Georgie is a story that teaches children that it is okay to have just one special friend.
Author: Scott Hatcher
Illustrator: Heather Potter and Mark Jackson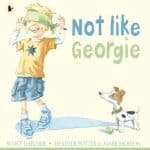 ISBN: 9781921529504
Format: Paperback
Publisher: Walker Books
Suitable for ages: 4+