Snow White Birthday Party: Fairy-tale Decorations and Party Food
Because her newborn brother was in NICU, Christmas 2012 was miserable for Cam. Hosting a memorable birthday party was a priority for me this year. When asked what type of party she would like, I wasn't at all surprised when Cam asked for a princess party.
Cam is already familiar with the stories of most princess fairy tales, but I took the opportunity to explore them further with her. I invited her to help me plan the party. We read a range of traditional fairy tales and talked about the settings, characters and symbols in each. We even came across a new fairy tale that neither of us had read before, Snow White and Rose Red. This book was so beautiful that we decided to use it as part of the party decorations.
After lots of reading and talking, we finally agreed on Snow White as the birthday party theme. It lends itself beautifully to a young girl's birthday party, with so many features that can be translated into decorations, food and games.
Our decoration, food and game ideas were inspired by:
Forest fruits and creatures
The personalities and actions of Snow White, the Seven Dwarfs and the step-mother
Invitations:
Decorations:
As well as decorating the house to look like an enchanted forest, we also used yellow, blue and red in our decorations.
Guests got a taste of the theme when they entered our foyer. The table was decorated with forest animals, forest berr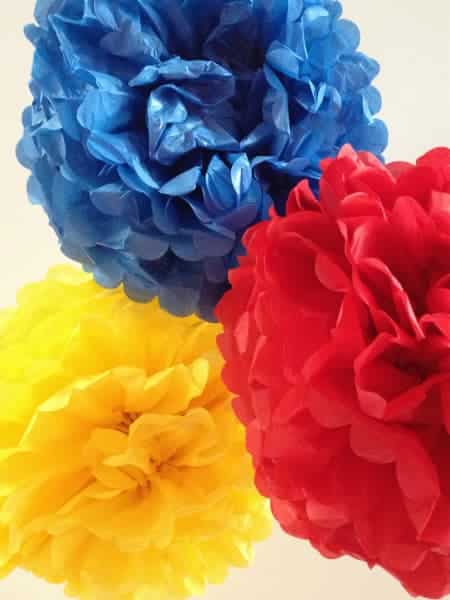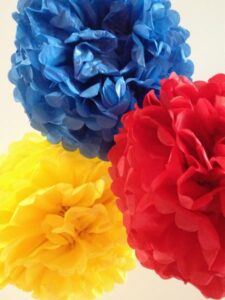 ies, an apple and a brag card for the birthday girl.
Scattered throughout the house were forest creatures and berries
The Dwarfs were watching over their diamonds and treasure in the backyard
The table setting featured woodland stools. I've had these tree stumps sitting in our garage for years, and thanks to this party,  creating these stools became a matter of urgency. My clever sister made the cushions using an apple fabric I had previously purchased.
We were able to get offcuts of faux turf from Resource Rescue, which helped to create an enchanted forest look.
I added black dots to the favour boxes to create the Dwarfs' mining train. This was a feature on the table, but later the boxes were used to collect treasure as part of a treasure hunt.
Food:
The cake was the centerpiece of the sweets table. I learned from the mistakes I made with the Princess Belle cake the year before and got this one right the first time. The trick to baking a cake in the Dolly Varden tin is to bake the cake at a low temperature for a longer period of time.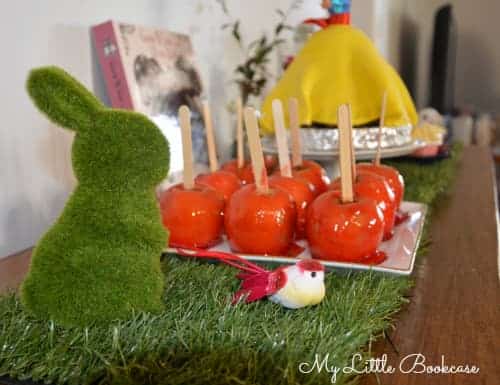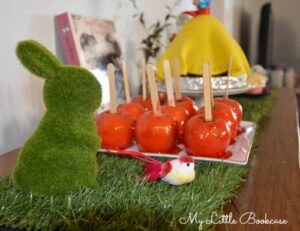 Once the mining carts were used for the treasure hunt, they were replaced with party food. As well as some themed food items, I also served homemade sausage rolls and party pies.
Healthy and easy to make were Fruits of the Forest Cups:
Cam suggested we use our bunny and bird cookie cutters to make Friends of the Forest Sandwiches. These had simple fillings: apple, vegemite, cheese,  and ham.
Cam's top request was for Fruits of the Forest Smoothies:
I've been looking for an excuse to make Toffee Apples ever since seeing this recipe on Picklebums. They really were a must for a Snow White Party. Poisoned apples indeed! These sweet treats were balanced with some Popcorn Cups (always popular).