The background story:
We just love using props for story-time and most of all we love puppets, especially those you make yourself!
I'm sure your kids will really enjoy making their own 'winky, wonky donkey' with 3 legs and one eye. Once you have made the puppet you can use it as a prop each time you read the book.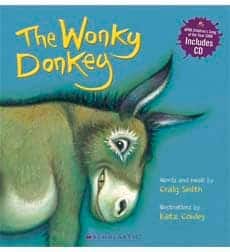 I have provided you with the basic instructions, but you may need to adapt the activity to suit the age and ability of your child.
Because the activity requires the use of small split pins it is not suitable for children under 3. At the end of the post, I have listed some other activities you could do with your child after reading the book.
The Book:
The Wonky Donkey
by Craig Smith & Katz Cowley
Scholastic NZ
EAN:978-0545261241
Suitable for: Ages 3+
You will need:
A copy of our donkey template
2 split pins
1 googly eye
1 feather
Scissors
Glue
Paddle pop stick
crayons, pencils, textas (or anything else you would like to use to decorate your donkey.)
Our approach:
1. Save and print the donkey template.
2.  Colour or decorate your donkey.
(We colored ours in a traditional grey, but creating a spotty donkey or a stripey donkey could be a lot of fun!)
3.  Cut out the donkey's torso and legs
4.  Line up the dots on the legs with the dots on the torso and secure with a split pin
5. Finish the donkey by attaching the paddle pop stick to the back of the donkey and gluing the eye and feather (as the tail).
Your kids will love making the 'winky wonky donkey' do weird and wonderful things.
Other Activities:
If your children are under 3, you might like to save and print this version of the donkey, for them to color and decorate.
My daughter is only 15 months old. She is just learning to manipulate a crayon. We used the donkey template to help her identify and color eyes, ears, nose, and feet.
You could also print this version of the donkey and play a family game of 'Pin the Tail of Donkey'.
THESE ACTIVITIES ARE INTENDED FOR PERSONAL USE AND HAVE NOT BEEN COMMISSIONED OR ENDORSED BY THE AUTHOR OR PUBLISHER.