I don't think I need to say too much about this classic book filled with adventure, repetition, prepositions, onomatopoeia, and a catchy sing-song rhythm.  I'm sure you know it very well. Personally, I can't believe it has taken me 25 years to add it to our little family library.
That's right! We're Going on a Bear Hunt has been in print for 25 years, and we have three copies of the 25th Anniversary Edition to give away.
Thrilled to finally have a copy of our own and with it being read on high rotation at the moment, we were inspired to go on a bear hunt of our own.
WHAT'S INSIDE THE BEAR HUNT PICNIC BOXES?
I recently purchased some picnic boxes for my own birthday picnic. They were a huge hit and I couldn't wait to use them again. Not only are they adorable and easy to decorate, but they are perfect for creating individual picnic boxes for your little ones. These ones were decorated simply with stamped tags and fluffy ears.
Of all the book-themed foods I've baked, I think the menu for our Bear Hunt Picnic Boxes has been the most fun to create. It featured simple, easy, affordable foods that were a hit with the kids.  There were a few treats in the boxes, but I also tried to include some fruits and vegetables. Below is a little run down for you.
Color melted white chocolate with green food coloring. Dip mini grissini sticks into the melted chocolate and sprinkle with green edible dust flakes. Once set, stand the grissini sticks in a piece of cantaloupe.
Fill a jar with forest berries and top with a child-friendly version of Donna Hay's Cheat's Chocolate-Hazelnut Mousse. Simply stir ¼ cup of Nutella through 300ml of whipped cream. This will make four jars of thick oozy mud. (Hint: You could make normal chocolate mousse or chocolate custard instead).
Fill a jar with a dip of your choice (we used hummus) and top with upright green veggies E.g. celery, cucumber, broccoli, and snow peas (I lightly steamed our broccoli and snow peas).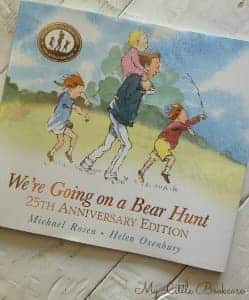 Stir in 85g of popped corn through one block of melted white chocolate. Spread onto a tray lined with baking paper and sprinkle with blue and silver edible glitter. Leave to set. Once set, break the popcorn apart and add it to a clear cellophane bag. (Hint: White chocolate is not necessary but it is delicious. You could simply add the edible glitter to the bag of popcorn)
Use a cookie cutter to create bear-shaped sandwiches and place them into a paper bag. Puff the paper bag a little and secure it with ribbon to create a cave.
OUR BEAR HUNT PICNIC:
We fuelled ourselves with picnic food before embarking on a bear hunt. Usually, Cammy helps me in the kitchen but I was excited for these picnic boxes to be a surprise. The kids were thrilled to discover the contents of the boxes.
I read the book, while the kids nibbled away on their food. Cam insisted on eating the foods in the order they appear in the book; Ike enjoyed the opportunity to feed himself independently; and their cousin, Charlie, had fun shaking her popcorn bag to create a snowstorm.
WE'RE GOING ON A BEAR HUNT:
We visited a local sanctuary, which resembled the setting in the book almost perfectly. We contemplated crossing the lake, found some mud (even during the summer), and stumbled and tripped in the forest.
I also planted a bear image on one of the trees. To be honest, though, Cam was quite disappointed that we didn't find a real bear.
FURTHER IDEAS FOR EXPLORING WE'RE GOING ON A BEAR HUNT:
Small world sensory play (At Home with Ali)
Make your own felt book (Just for Daisy)
Indoor play (Learning 4 Kids)
Paint scenes from the book (Learn with Play at Home)
MORE BOOK-THEMED FOOD IDEAS: