About the Book
History tells us that the human spirit is amazing. In the face of war, humans rise above the loss and pain to find hope and new life. This is the sentiment conveyed by Margaret Wild and Freya Blackwood in The Treasure Box. The book begins with visions of war but the story symbolises identity, nationality, hope, perseverance and survival. With a gentle text, Margaret has  written a story that is sombre yet, at the same time, inspiring.
After a library is burned down during the war, a young boy and his father recognise the importance of the last surviving book and keep it safe in a treasure box. The boy loses his father after they are forced to flee their home. But, he is determined to hold true to his word to keep the book safe. Eventually, he decides to bury the treasure box where no-one or no thing could touch it.
When he eventually returns to the place where the treasure box is buried, he finds new life in the village that he left behind. He also returns the book to the rebuilt library: a book that symbolises nationality, hope and history.
'It is rarer than rubies, more splendid than silver and greater than gold'
Freya Blackwood has successfully experimented with a new illustrative style but she continues be meticulous in every mark she makes in her illustrations; each being well thought out and symbolic.
Illustrations are raised above the backgrounds and photographed to provide depth and natural shadows. To create haunting and emotive images, pages have been torn from war-themed books and used for the endpapers and to create collages of ashen skies, billows of smoke and snow-covered tree branches.  Freya's trademark colour palette returns on the final pages to represent new life.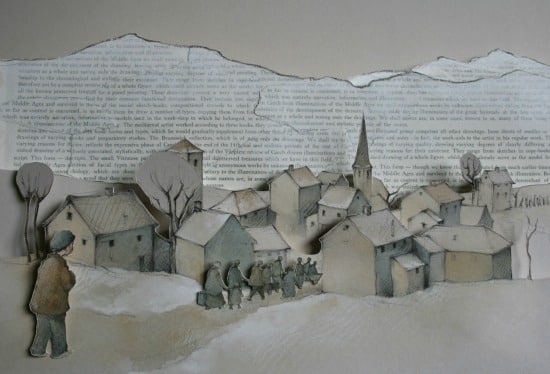 The Treasure Box is a moving book to share with children, to demonstrate the power of the human spirit in overcoming the odds. Buildings may be bombed, lives may be lost but history and stories can be kept alive.
Further book details at the end of this post.
Follow- up activities and learning experiences:
As a class or a family create a treasure box of your own that symbolises who you are as a group/community. Each member of the family/class contributes an item of significance to the box. (See an example)
Bury or hide the treasure and create a (scaled) map to show where the treasure is hidden. (See an example)

Use the map to locate the treasure box over a period of time (You could even leave it there for years- much like a time capsule)
You could swap your treasure box with another class, and talk about how the objects symbolise the group.
FIND OUT
Find out what communities have been forced to flee their homes and immigrate to new countries during times of war.
OUT AND ABOUT
Go to the library, and search for  books that were written during war times
THINK & TALK
What is the most important book on your bookcase? Why?
If you could save one book from a burning library what would it be?
"People caught the words and cupped them in their hands"- What is your favourite word? Why?
Why do you think an enemy would bomb a library during war?
Ask your grandparents to share a story from their childhood with you
CREATE
Create your own collage scene using newspaper print.
Book Details:
Author: Margaret Wild
Illustrator: Freya Blackwood
ISBN: 978-0670073658
Format: Hardback
Publisher: Penguin Books Australia, January 2013
RRP: $24.99 (aud)
Suitable for ages: 5+
You might also like to read about other ANZAC books for children. Click on the image below.