Have you ever taken notice of the motto for My Little Bookcase? A love of reading starts with one special story. I believe in this motto wholeheartedly. I started My Little Bookcase to help parents find that one special story for their children that would ultimately help them to fall in love with books and reading.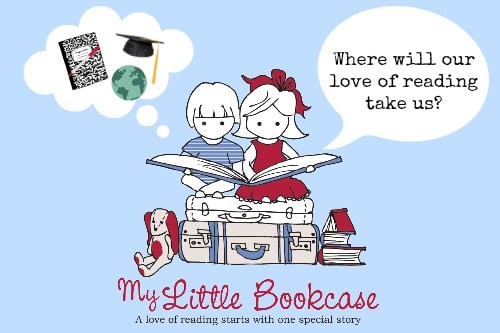 But lately I've been wondering where that love of reading can lead you. I know that the journey starts with a special story, but where does the journey end?
● Maybe it might take you to the other side of the world where you'll travel to a place you read about in a book.
● Perhaps it might lead you to a creative career in writing or illustrating books.
● Maybe your passion for reading will lead you to become a teacher or a perhaps a mentor for children or adults with low literacy skills.
● Maybe you'll direct a play or a movie based on a book you loved as a child.
● Perhaps your love of books will take you on a discovery for knowledge in a life filled with study and research.
I'd love to know where your love of reading has taken you.

Personally, my life has been shaped by books. My love for reading led to a love of learning, and I inevitably became a teacher.  Once Cammy came along, My Little Bookcase was also born; it was completely and utterly hatched from a love of books.  My Little Bookcase has been HUGE part of my life over the past three years. Not only have I had the pleasure of meeting many book-lovers, authors, illustrators and publishers, but I know I've inspired many parents and educators too. Now, I have found myself working with a wonderful team of passionate readers and storytellers on a project that I feel incredibly passionate about. Story Box Library is taking my love of books to a new level beyond the cosy little place that My Little Bookcase has become.
I don't think there is an end to the journey at all. A love of reading can keep taking you to amazing places.
I realised this while I was watching the Australian Open during January. I kept seeing an advertisement for Open Universities Australia (you know the ad with the big heads?). I gained more and more interest each time I watched the ad. You can watch the ad here, if you happened to miss it:
Then I received an email about Open Universities Australia and I took it as a sign that, for me, now is the time for change.  The ad ends with "There's always time to grow into the person you want to be, because at Open Universities Australia, we believe your best days are ahead of you" , and I know that's true for me. I think I do have more to offer the book and education sectors.
My Little Bookcase certainly isn't going anywhere in a hurry, but I sense that, in its current state, it has run its course.
Thinking that there might be a new chapter ahead of me, I gave into temptation and had a little peek around the Open Universities Australia website, and spotted a course I now have my eye on.
A Graduate Diploma in Professional Communication would definitely help me develop my role at Story Box Library, but there is another little big dream I have:
I love reading and exploring books with children, but what I really want is to be involved in the creation of children's books.  There are units in this course that would help me to hone my writing and editing skills, leaving the door ajar for me to realise that dream one day, maybe when the kids are in school.
I obviously have a lot of decisions to make. For now this will be Cammy's last year before she starts school, so I'm not going to jump into anything too soon.  My posts here may become few and far between as I use this year to set some new goals for myself and for My Little Bookcase.  It's a big decision to take on study because I know it will take time away from my family. I plan on taking full advantage of the support Open Universities Australia has in place that will help to ease my concerns:
● Preparatory units to help ensure I'm following the right course path
● Student support and counselling
● FEE HELP options
But I'd really love to hear from you too.
Have you returned to study? How did you juggle family and study commitments? Have you had a career change?

And for those of you who haven't returned to study, are there dreams that you'd like to pull from the shelf? Is there a course at Open Universities Australia that could make it happen for you?
This post is sponsored by Open Universities Australia.