Once upon a time, in my youth, I may have had celebrity crushes on sports people, rock stars and actors, but since having Cam, my soft spot is now for authors who write brilliant literature for children.
I have a strong respect for all children's book authors and illustrators but there are a special few who have gained my utter devotion. These authors and illustrators:
Make me smile from ear to ear when I read their books.
Make me

feel giddy with happiness

when I watch my Cam enjoying their books with smiles or laughs- or when she asks me to read their books over and over and over again.
Make me go

weak at the knees

when I see their name in my email inbox. Not only are they brilliant at their art, but they are incredibly genuine, giving and interesting people to connect with.
Give me a kick of excitement when I add another one of their books to our collection.
There are six authors/illustrators who have stolen my literary heart: Nick Bland, Freya Blackwood, Peter Carnavas, Kylie Dunstan, Anna Walker and Gus Gordon. They never disappoint me. Book after book, they continue to make my heart sing with their creations. They are talented and creative individuals who write books that are thoughtful, beautiful, deep, rich and often philosophical- not to mention books their whimsical, eye-catching and heartfelt illustrations.
My husband sometimes gets sick of hearing me speak of these artists, and you have probably noticed that barely a day goes by without me shouting their praises on our Facebook page.
I'd say a doctor would definitely diagnose me with a crush that could only be cured short term with a purchase of their latest books.

I've already had the pleasure of meeting fellow Melburnians, Anna Walker and Kylie Dustan.
But, this weekend was a doozy for me (and Cam). We were privileged to finally meet Nick Bland and Gus Gordon. Now I'm just patiently waiting for Peter Carnavas and Freya Blackwood to visit Melbourne- and my life will feel complete (he he!).
Meeting Nick Bland
We met Nick Bland at Matilda's Bookstore (aptly named after Roald Dahl's Matilda) who is travelling with the Get Reading campaign. He is as wonderful as you'd imagine him to be: friendly, funny, engaging, charismatic and humble:
And, I wasn't the only one smitten:
Nick Bland engaged the children with his brilliant storytelling:
I am simply in awe of his rich and colourful illustrations. It was an absolute treat to watch him draw for the children:
The children helped Nick to create his 'latest character.' I wonder if we'll see him in any future books?
In actual fact, Nick did provide us with AN EXCLUSIVE: 2013 will see the return of Bear as The Very Brave Bear. This cranky, itchy, hungry and brave bear is not afraid of anything…….unless that anything is something very small.
Meeting Gus Gordon:
We met Gus Gordon at one of our favourite bookstores, The Little Bookroom:
Leigh Hobbs officially launched Herman and Rosie in Melbourne: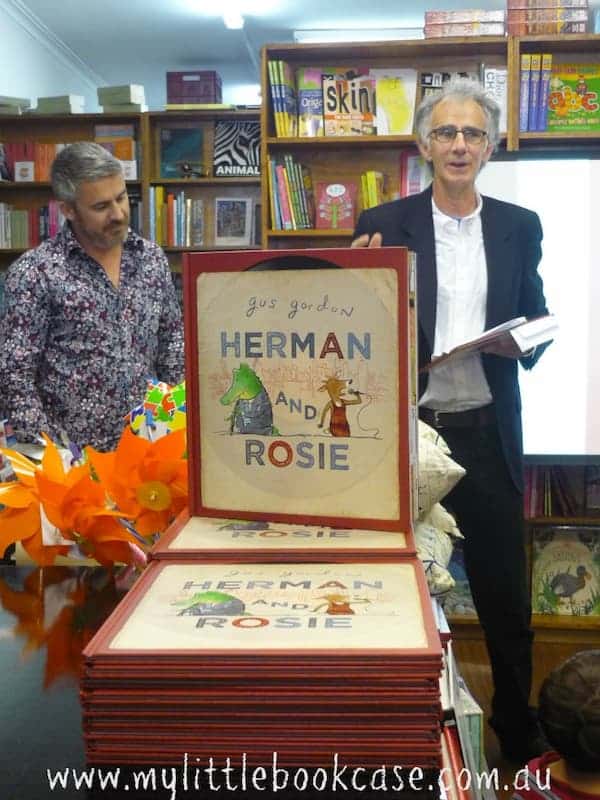 Gus spent some time giving us all a wonderful insight into  Herman and Rosie: it's inception, the research, the illustrations and the number of covers he trialled (this was just a small selection of possibilities):
So passionate about Herman and Rosie, Gus gave his full attention to every fan who came along to the event:
I think you'll agree that we've been very lucky this weekend.
Can you confess to any literary crushes?