Thanks to the good people at the National Library of Australia, we have one copy of Eco Warriors to the Rescue! to give away, valued at $17.99.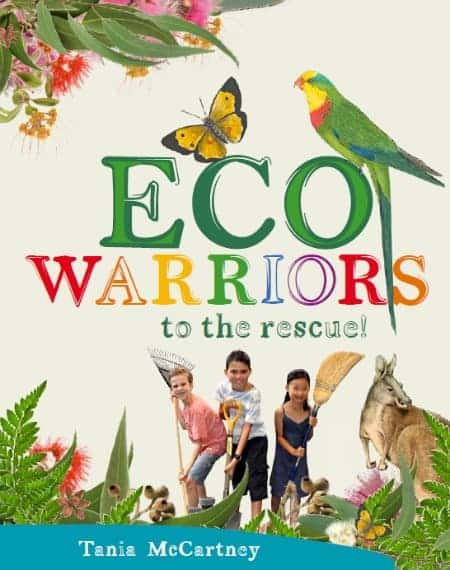 This is a truly unique and attractive book that combines modern photography and typesetting with historic botanical art from the archives of the National Library. The book also includes interesting facts about Australian flora, as well as floral emblems and birth months. After all these years, I've only just discovered my native birth flower!
Banjo, Matilda and Ned take you on an adventure through the pages of their favourite book. On this adventure they interact with Australian flora (including Kangaroo Paw, Eucalypt and Wattle) to seek 'tips' that will ensure that future generations will be able to enjoy our beautiful and unique native landscape.
Want to know more.  Read official book reviews  at Boomerang Books or Kids' Book Review or take a look at the full book tour schedule.
And, if you live in Canberra, be sure to join Tania McCartney and her three real-life eco warriors—Banjo (Riley), Ned (Andrew) and Matilda (Claire)—as they launch Eco Warriors to the Rescue! at Canberra's National Arboretum Gift Shop, Saturday 5 October 2013, at 11am.

To enter:
Head to  Tania McCartney's blog, where you can sneak a peek at some of the internal pages of the book
Find your birth flower on the page that features Australia's native birth flowers.
Pop back here and leave a message below. Share your birth flower with us, and leave a short comment about Eco Warriors to the Rescue!
The winner:
The most creative entry will receive a copy of Eco Warriors to the Rescue!
Terms and conditions
1. Each reader may enter only once.
2. The giveaway is open to Australian readers only
3. All entries must be received by 9:30pm (AEST) on Tuesday 10 September, 2013.
4. The winner will be chosen by Jackie Small of My Little Bookcase
5. The winner will be notified via email
6. The winner will also be announced on Facebook and Twitter
7. The winner are asked to send a reply email within 7 days before a new winner is selected