Did you know? : The lamington was first made in 1901 for Lord Lamington, Governor of Queensland
We originally made these lamington wombats and koalas for Santa, after reading some Aussie Christmas stories. Santa loved them so much we thought we'd make another batch, as they'd make a perfect little treat for Australia Day. Be prepared for a little bit of mess, but a whole lot of fun!
Try combining this baking session with a reading of   Possum Magic or Wombat Stew
You will need:
How to make Lamington Wombats and Koalas:
1.      After baking your sponge (or buying a pre-baked sponge), cut your sponge into small rectangles.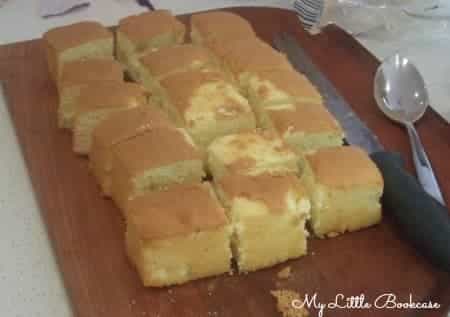 2.      Combine sugar, cocoa, melted butter and milk
3.      Mix well to create icing
4.      Dip sponge rectangles into icing
5.      Coat in coconut
Nb. Some little ones might be inclined to take a sneaky lick of their fingers (he he!)
6.      Place lamingtons on wire rack to set
7.      Use slithered almonds as ears. Press into the lamington. Lay the lamington flat to create a wombat, or stand it up to create a koala.
8.      Use sultanas as the animals' noses. Melt a little bit of the white chocolate to act as 'glue'.
9.   Enjoy this yummy treat.