We've recently discovered a fun way to incorporate 'sight words' (also referred to as 'high frequency words', 'most used words' or 'Magic Words') into our play.
What are 'Sight Words' or 'High Frequency Words'?
Even if your child hasn't begun bringing home 'sight' or 'high frequency' words, it is likely that you have already seen or heard about them. As the names suggest, these English words are the most commonly occurring words in everyday texts (accounting for more than 50% of the words we read in a text). Children are often encouraged to learn these particular words as a whole by sight or memory; mainly because the words are seen so regularly in texts and will assist in reading fluency and comprehension, but also because some of the words are more difficult to decode due to their uncommon spelling patterns.
Using 'sight words' or 'high frequency words' in a play-based setting
Cammy is now five and is currently attending pre-school. We have chosen not to explicitly teach her how to read before school through rote learning or structured reading programs, but we are conscious in providing experiences that build literacy foundations through play and exposure to language. We do a lot of reading, we play games with letters and sounds and I've recently begun to use words as props in her play.
You may remember that my hard drive crashed last year. I didn't get a chance to throw it out before the kids took ownership of it. They love to tap away at it, writing stories and sending emails. so I decided to make use of it in a recent invitation to play.
I set up a simple office play space (e.g. pens, stapler, calculator etc.) at our writing station, opening the laptop and leaning a list of 'high frequency words' against the screen.
Although the idea of 'sight words' is to learn them by memory, I am hoping that Cammy will recognise spelling patterns within the words so I rearranged some of the words to create simple lists for Cammy. I tried to:
Start with words consisting of two sounds.
Group words that had similar sounds (first sound or last sound)
Also, Cammy's experience of letters is with lowercase, but the laptop presents uppercase letters, which is why I presented the list in both formats. You can simply provide the words in one format if it seems too overwhelming for your child.
This was simply an invitation for her to play with the words. There weren't any instructions or expectations from me.
Cammy did choose to look for the letters on the laptop. Our laptop is dead, and I think this is a great thing for the purpose of this play. Cammy can't see what she is typing. She can't see if she's made any errors. She can't print out the words and ask me to correct them.  She doesn't feel any anxiety or pressure to learn words. NONE OF THIS ACTUALLY MATTERS at this point!
What matters is that she is seeing the words, deciphering letters, looking for patterns in the words and all while she is playing.
Try it yourself: There are many lists that have been compiled (e.g. Dolch, Fry, Magic 100 Words) if you wanted to try this yourself, but you will be able to find a list easily by using the terms 'sight words list' or 'high frequency words' in an online search.
FURTHER IDEAS FOR USING SIGHT WORDS
Follow the following Pinterest boards for more sight word activities or to prepare your child for learning to read: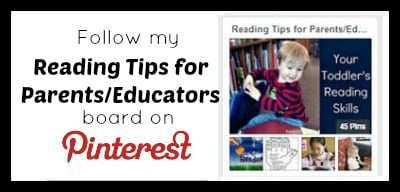 Be sure to join one of our communities for more literacy-based inspiration, or subscribe to our mailing list so you don't miss out on future posts.