We've been spending quality time in our backyard lately, and I thought I might share this little corner of our home with you.The arrival of spring always instils a fresh new love for our backyard, but since bringing Ike home after an 8-day stay at the Royal Children's Hospital, the kids have just delighted in the opportunity to spend as much time in the backyard as possible, a place where there isn't any stifled air or dull, restricting walls.
You'll see that our backyard is really quite simple but it inspires wonderful play and provides opportunities to engage in play-based learning.
Let me take you on a little tour of our backyard space: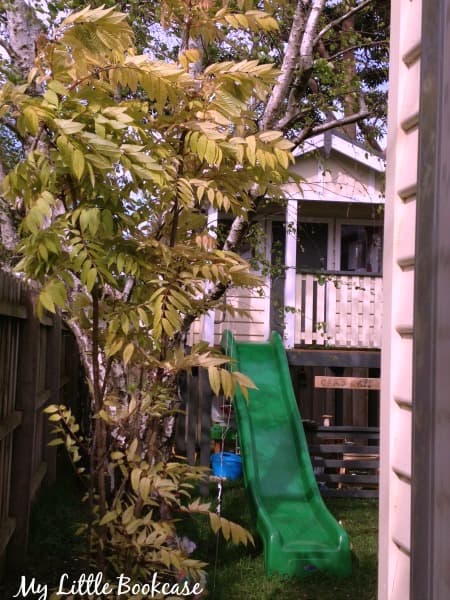 Santa built this cubby house for Cammy a few years ago. It is a mini replica of our little 1950s weatherboard home (I might have given Santa a few specific design instructions- wink wink!), and I just love it- so do the kids!  It is certainly the hero of our backyard. Sure, I enjoy being up there with Cammy and Ike, but I also love getting a glimpse of it as I hang the washing on the line and every now and then, when I'm shutting up the windows and door, I'll steal a few extra minutes to sit up there by myself. It is just so tranquil and innocent.
Books are important to us so they have certainly influenced the décor in the cubby house.
I made a beautiful Possum Magic bunting for Ike's first birthday party, but it was such a windy day that all the flags just gathered into a little bunch, and it sort of went unnoticed. So as not to waste this beautiful piece, it now hangs proudly  in the cubby house.
The walls are adorned with some of the kids' own artworks and gorgeous illustrations we cut and framed from the My Little Bookcase 2013 calendar , along with the Ikea spice rack bookshelves that Cammy proudly painted herself. We rotate the books seasonally.
In the cubby house there are a few specific spaces:
A reading corner
We rotate the books seasonally.
A play kitchen
The play kitchen is filled with a mismatch of unused furniture and surplus toys.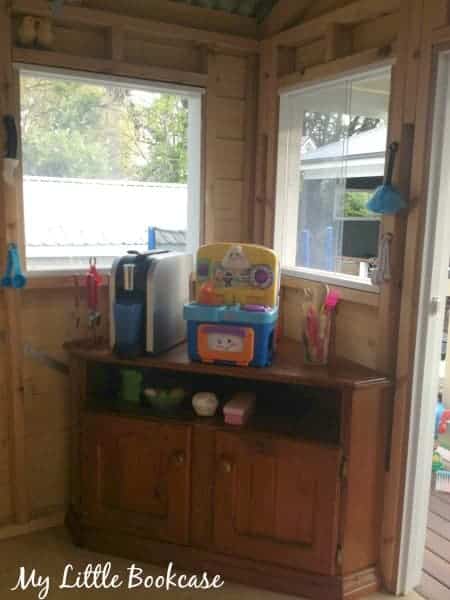 A Dressing table (that doubles as a writing desk)
A round table set
This table used to be in our home before we re-organised the writing station for the kids, and then it was moved into the cubby house. It is sometimes used as a dining table here and other times it becomes an art desk.
At the beginning of every season, we like to give the cubby house a bit of a spring clean: a dust, a window clean, and a wash down of the toys. We rotate the books in the reading corner and add a vase of fresh flowers from the garden.
At Christmas we enjoy jazzing it up with some seasonal decorations.
I specifically asked 'Santa' for a double story cubby house to create extra space in the back yard. We haven't really created a specific use for the space under the cubby house,  other than adding a few nails in the structure to hang pots and pans and a swinging sign for Cam's Cafe (which we converted from a piece of Cammy's artwork). It's a great place for the kids to create mud-kitchen recipes and run little pop-up cafés though (Print your own mud kitchen recipe book template for outdoor cooking).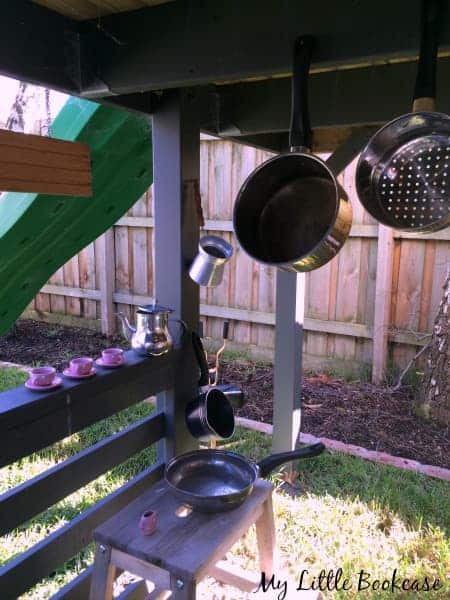 Cammy loves creating all sorts of concoctions (which is where I got the idea for a mud kitchen recipe book- you can download and print a template here).
It's been five years since our extension and we still haven't planted flowers in our garden beds, which is okay because Cammy likes to use them to create fairy gardens. We've got quite a few around the place. Fairy gardens provide a wonderful opportunity to build an interest in writing.
The back fence is a canvas for all sorts of art- I simply provide a bit of chalk, paint or mud.
and the generous grass area provides space for gross motor activities, impromptu play and planned outdoor literacy and book-inspired activities.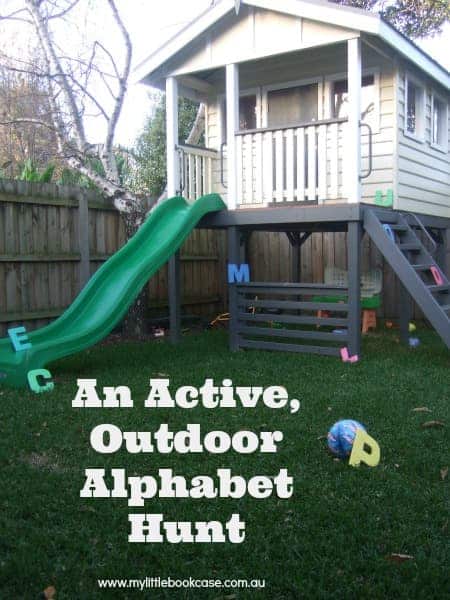 MORE BACKYARD AND OUTDOOR INSPIRATION:
Check out some more of my favourite Australian backyards and cubby houses.
Children's Books Daily: A cubbyhouse that became an art studio
Mummy Musings and Mayhem: Easy recycled pallets for outdoor play
Adventures at Home with Mum: A marvellous mud kitchen
Happy Whimsical Hearts: A magical children's garden
Learn with Play at Home: A simple mud kitchen
Suzie's Homeschool Adventures: A DIY outdoor kitchen
Be a Fun Mum: A makeshift tinsel tent for drawing
Octavia and Vicky: Tissue box traffic lights
Mother Natured: Spider Web Obstacle Course
Also visit Childhood 101 for a host of inspiring outdoor spaces
Like this post? Stay connected:
Be sure to join one of our communities for more literacy-based inspiration, or subscribe to our mailing list so you don't miss out on future posts.