We recently made an impromptu visit to Santa. We were doing some birthday shopping at Westfield-Doncaster when my daughter spotted Santa. There was no avoiding him.
The set-up at Doncaster is truly extraordinary. This is where Santa parks his sleigh while he visits all the children in Melbourne.
We didn't purchase photos so Cam's chat with Santa was quite brief.
As we were walking away Cam seemed disappointed and quietly said, "Santa didn't take me for a ride on his sleigh."
"Santa doesn't have time to take all the children on a sleigh ride" was my reply, at the same time wondering where that idea came from.
"But he took Lily on a ride."
"Who's Lily?" I asked.
"You know, from Lily's Wish!"
This is what Cam was talking about:
Lily's Wish (by Barbara Pyett and Serena Geddes) is sweet little Christmas book. Lily writes a letter to Santa with an unusual request.  Her one wish is to fly like the birds.
At first Santa writes back and suggests he bring her a pair of fairy wings. The idea of fairy wings does not satisfy Lily. They will not help her reach the other side of the ocean, where her grandmother lives.
Santa finds a way to make her wish come true. He stops by her house to pick her up on Christmas Eve, and takes Lily on whirlwind trip around the world (and we get to see beautiful icons illustrated by Serena Geddes). Lily manages to leave a little gift for her grandmother too.
The story ends with Santa opening a thank you letter from Lily. I love Barbara Pyett's view towards gifts in this story.  Sometimes kids ask for things that can't really be packaged neatly. And maybe it would be nice for us, as parents, to encourage our children to ask for non-material objects or make wishes for others.
The problem with this story however, is that Cam was desperate to fly too. I had no idea how I was going to make that happen.
Eventually, with a little imagination her wish came true too. Most mornings now I am woken up by her chanting "Go Dasher! Go Dancer!":

We found some sacks and filled them with toys: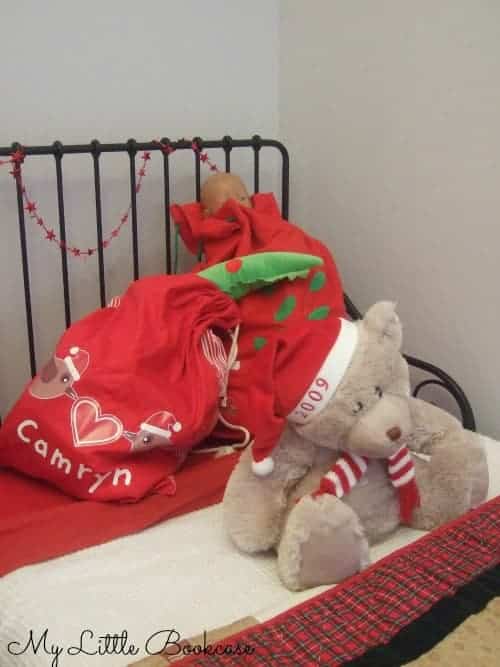 Her toddler bed became the sleigh, hobby horses became reindeer and ribbon became reigns: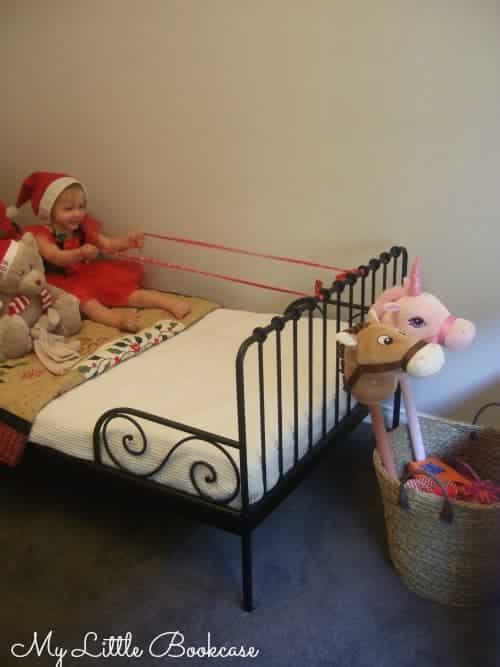 "Go Dasher, Go Dancer"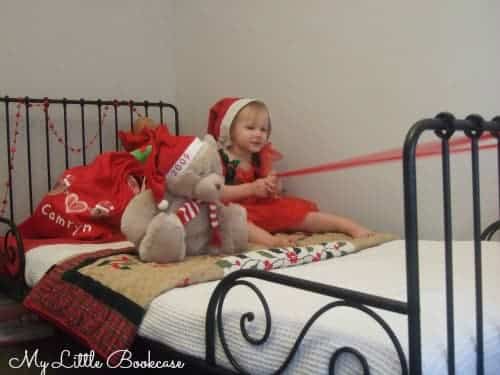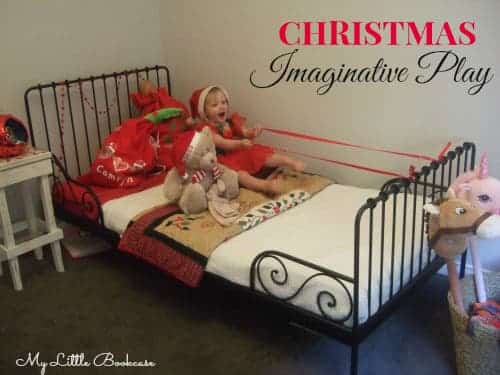 What do your children like to role-play during the Christmas season?