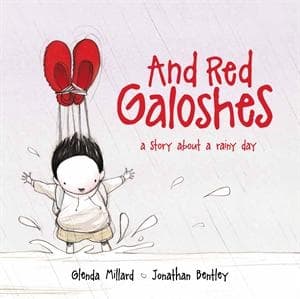 This book is wonderful and truly gorgeous in every way, and I simply can't get enough of it (Hence, it was chosen to feature in one of our Cubbyhouse Tales sessions). I'm almost embarrassed to tell you that I wasn't sure about this book at first. I WILL tell you though, because I fear that other parents will overlook this book for the same reasons, and this is certainly one book that should not be overlooked.
The cover of this book was a hit for me immediately. I absolutely adore pops of vibrant red that stand out from other parts of the illustrations (and I'm also partial to wearing a bit of red on a dull, winter's day in Melbourne).
So, it was with much eagerness that I opened the book to read it.
???????? pretty much summed up my thoughts.
I read it again.
I was feeling a little confused. It wasn't that I disliked the book. There was something within me that wanted me to love it, but it just wasn't making sense to me. Where did the words 'and red galoshes' fit into the sentences? How did the sentences connect with one another? Where was the introduction, the complication the resolution?
I decided to put the book aside.
It didn't take long for my daughter (my little reading side-kick) to notice the book. She picked it up and demanded that I read it. She was instantly enthralled in the book. There was so much adventure for her and, of course, she loved looking for the puppy on each page. Two pages in and this nearly-two year old was reading along with me. 'And red galoshes' she would say enthusiastically with the most gorgeous toddler-like lisp. And just like that, with the help of my toddler, I fell in love with this book which at first I had trouble understanding.
I finally understood Glenda Millard's purpose and style. I was reading this book as an adult. I needed to read it as a child and with a child. This is a book of adventure, imagination and making the most of a rainy day. It's not meant to be about routine and structure, literary or otherwise. It's about two children, hampered by the rain, who go about their day finding new and exciting things to do. Just like real pre-schoolers, the children go from one activity to the next before you've even had the chance to sip your tea.
The words are limited but extremely rich, made up of a series of stand-alone sentences. Jonathan Bentley's captivating illustrations are an absolute delight on the eye. He has done a brilliant job of interpreting Glenda Millard's text.
The repetition of the words, 'and red galoshes', on each page is a wonderful feature for young children. They can become familiar with the story and the text and it is a wonderful tool for helping children connect sounds to print. It also gives children confidence in reading as they are able to easily 'read' along with their parent.
For such short and simple sentences, And Red Galoshes is full to the brim with exciting language: rhyme (Leaves let go for me to throw), rhythm (Downpipe drum beat rain on my street), alliteration (wild winds wailing) onomatopoeia (splishing, sploshing), verbs (swooping, dancing) and adjectives (soggy, sleepy).
And Red Galoshes is about two young children, and their dog-in-arms, who have a lot of fun and adventure on a rainy day with the help of a pair of red galoshes. Inspired by what's happening around them, the two children use the galoshes as a bucket, a kite, drum sticks, an umbrella and a pair of oars.
This is a book to keep on hand. It is a book to inspire the imaginations of your children; a book to hand over to your kids when they declare, 'I'm bored'; and it most certainly is a book that advocates a 'slow childhood'.
What do you think your children would do with a pair of red galoshes?
If you think you and your children would enjoy this book make sure you check out our list of reading activities and songs to enjoy with this book.

Book Details:
Author: Glenda Millard
Illustrator: Jonathan Bentley
ISBN: 978-1921541469
Format: Hardcover
Publisher: Little Hare (Hardie Grant Egmont), April 2011