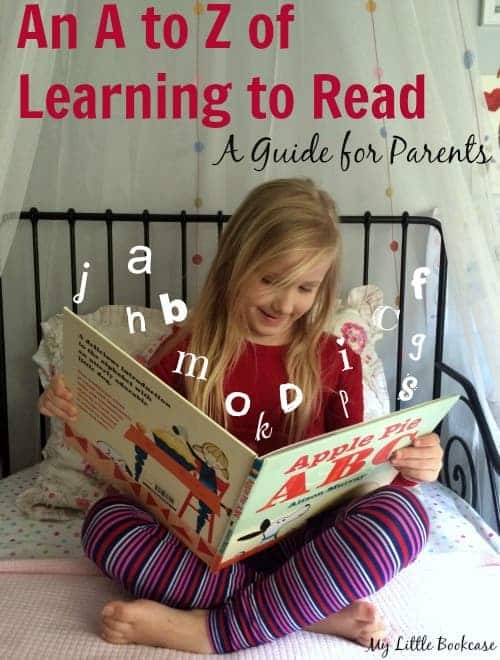 Welcome to An A to Z of Learning to Read, a series designed to guide parents through the ins and outs of learning to read. The series is not a structured program to follow that will lead to instant reading success; rather, with some helpful reading tips along the way, I'm aiming to help parents make sense of the reading terminology that floats about and understand what is involved in the reading process.
LEARNING TO READ IS LIKE BAKING A CAKE
Many parents quickly become overwhelmed when they start looking into how to teach their child to read.  And, it IS overwhelming because learning to read is actually a very complex skill. Many educators can't  agree on the best way to teach reading and that's because there isn't one single formula that every child should follow.
I think learning to read is a little like baking a cake. There are many types of cakes to bake and numerous recipes to follow. By choosing ingredients that work together with sound baking methods, they all have the potential to produce successful and beautiful results. But that success lies in the preparation and not the decorations. If you haven't put time and effort into choosing quality ingredients and mixing a good cake, it will just collapse under your elaborate decorations.
While there are many different approaches to learning to read, there are particular understandings and skills that are necessary for a child to be able to read (I call them ingredients for reading). And, just like baking a cake, reading success lies in the preparation.  I'm an advocate for spending time developing strong foundations for children to build upon, by introducing games and activities that playfully incorporate these skills and understandings. With time and consistency, these ingredients (skills and understandings) start to interact and work together to generate an ability to read.
INGREDIENTS FOR LEARNING TO READ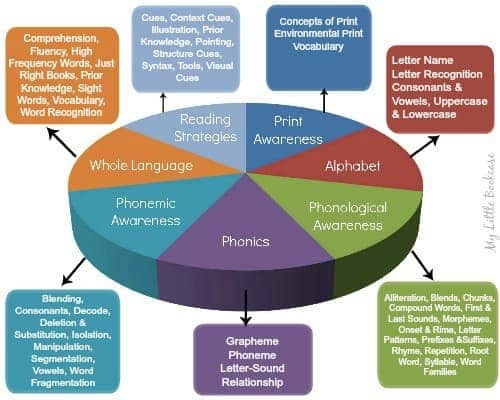 Each item listed on this cake is an important ingredient for reading (Please let me know if you think I've left any crucial ingredients off the list). They are the skills and understandings a child needs to grasp in order to read successfully.
Although each ingredient is interrelated, I've grouped them under focus areas for the purpose of this series, and each focus area is represented by a slice of cake. I suppose we could also look at them as steps in the recipe towards reading.
AN OVERVIEW OF 'AN A TO Z OF LEARNING TO READ' SERIES
The first official post of the series will see a general definition of each ingredient for reading. Then, week by week we are going to explore each of the focus areas, discussing the terminology in more detail, outlining the purpose of each ingredient and providing some tips and activity ideas to develop these skills and understandings.
Please note: As mentioned earlier, there are many approaches to learning to read so these focus areas don't need to be addressed sequentially in this order (although it does makes sense to develop some skills and understandings before others). Sometimes learning can take place holistically, in that a particular activity you undertake with your child might address a range of skills and understandings from different focus areas.
WEEK 1: Glossary of Reading Terms
WEEK 2: Print Awareness
WEEK 3: Alphabet
WEEK 4: Phonological Awareness and Phonemic Awareness
WEEK 5: Phonics and Whole Language
WEEK 6: Reading Strategies

Like this post? Stay connected:
Be sure to join one of our communities for more literacy-based inspiration, or subscribe to our mailing list so you don't miss out on future posts.