I'm simply thrilled that Caroline (Caro) Webster has written a special guest post for My Little Bookcase. I first stumbled upon the writings of Caro over at her blog. Her article on getting children's senses buzzing in the kitchen really drew me in and I've been an avid follower ever since. For an indoorsy bookworm like myself, Caro & Co provides me with lots of inspiration for enjoying the outdoors with my daughter.
In this article, Caro inspires us all  to find a cosy nook in the branches of a tree to read our books- something I've never done before.
Caro is the author of a fantastic parent resource book, Small Fry Outdoors, and we have a copy to giveaway shortly. She  is currently working on a second book about the power of imagination and a third about a girl who loves dirt.
Caro also writes a monthly column for Australian Country Style on all that nature and the outdoors has to offer, and contributes to Home Beautiful (My favourite mag). She has worked in a variety of industries including advertising, politics, the not-for-profit sector and publishing. She lives in Sydney with her husband and two young children but is currently enjoying the European  summer with her family.
You can find her on twitter,  on facebook or check out her blog.
When I was little, my sister and I built a hidey-hole up in the upper branches of a magnificent liquidambar tree.  Conveniently for us, the tree had grown its branches in all the right places so it was relatively easy to scale to the top.  However, we quickly learnt at which point the branches would no longer hold our weight – an early and valuable lesson in responsible risk-taking.
Illustrations © 2010 Anna Walker. Used with permission by Anna Walker.
From All Through The Year, Written by Jane Godwin, illustrated by Anna Walker, published by Viking Australia
Everything was dragged up this beautiful tree including an entire tea set, our dolls and other toys and at one time our dog, which was no mean feat as she was a basset hound (we had an ingenious series of ropes and pulleys we could employ if need be).
And of course, we took books – lots of them.  At the time I was passionate about Enid Blyton's The Faraway Tree series, so reading about a magical tree, whilst nestled in the foliage, high above the ground seemed particularly appropriate to me.  On one occasion, I remember wearing a saucepan on my head in honour of the Saucepan Man.   Another, I dressed as a fairy and became Silky for a day. I constantly begged Mum to make toffees so I could imagine that at some point they would explode in my mouth into a mass of nothingness a la Toffee Shocks.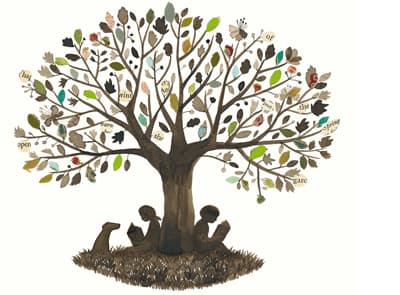 Illustrations © 2010 Anna Walker. Used with permission by Anna Walker.
From All Through The Year, Written by Jane Godwin, illustrated by Anna Walker, published by Viking Australia
I had a pet galah called Rosie and she would often sit on my shoulder at the top of the tree, quietly nibbling my ear as I read.  Sunlight would dapple across the pages, the leaves would whisper secret messages when a breeze blew and, once I became perfectly still, a myriad of small insects would resume their seemingly aimless marches up and down the trunk and larger boughs.   It was simply perfect.
I also used to enjoy hanging upside down like a bat, reading until the pressure in my head made my eyeballs feel like they going burst through my ears.  The woozy feeling experienced when I swung upright was both unnerving and exciting.
Spending an inordinate amount of time at the top of a tree has done several things for me.  Firstly it has given me a deep and abiding love of trees and everything Mother Nature provides.  I remain very connected to nature to this day and talk a lot about it here. It has also instilled in me a passion for reading and writing and a desire to foster a love of outdoors and a keen imagination in my own children.
Who'd have thought one tree in a small garden, in an average Australian suburb could do all that?