Re-telling a story while playing a game is such a fun reading comprehension activity.
Our story Skittles was inspired by The Little Book Adventure – Project #5: Play with Your Books.
I'm always looking for creative ways to make use of our growing mountain of toilet rolls. For a while now, I've been thinking that they'd actually make a good Skittles set.
10 Scared Fish is one of the shortlisted books for the 2012 Speech Pathology Book of the Year for Indigenous Children. As Cam and I were reading the book, it occurred to me that this book would make a perfect theme for a Skittles set.
I suppose the characters or objects from any counting or number book could be used as inspiration for a Skittles set, but 10 Scared Fish is not your average counting book.
Although there isn't any counting back in the book, the scurrying away of animals at the end of the story demonstrates that numb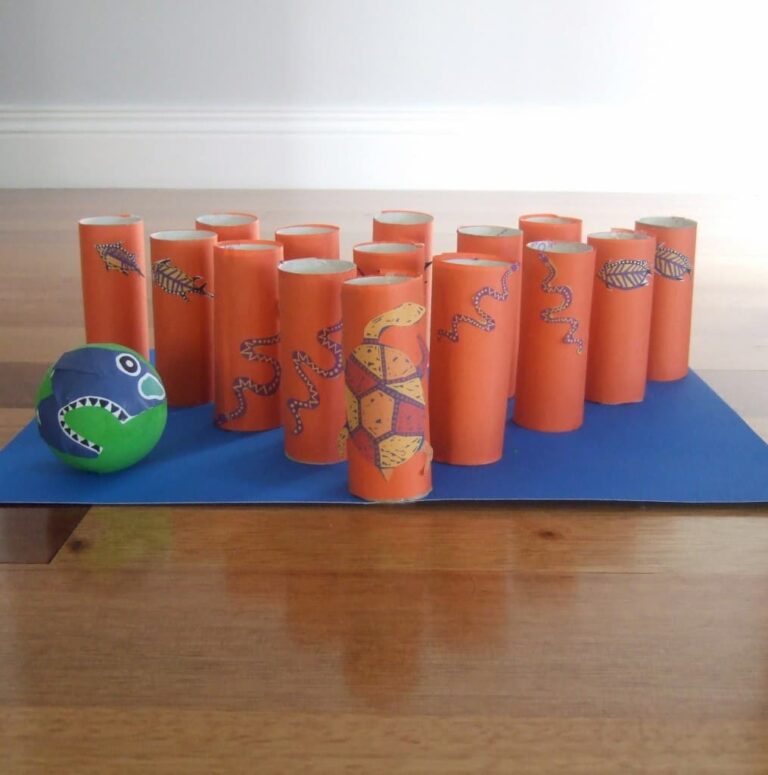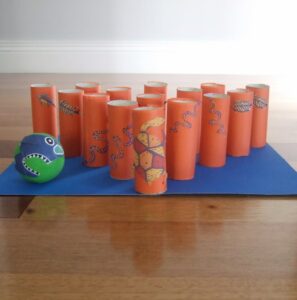 ers can decrease just as quickly as they increase. It provides a lovely introduction to the concept of subtraction.
It's this concept of potential subtraction that lends itself so well to a game of Skittles. It allows children to see numbers build and be taken away with each play of the game.
It was also easy for us to recall/re-tell the story as we played a game of Skittles.

More details about the book can be found at the bottom of the post.
You will need:
Images: one turtle, four snakes, 10 fish, and one shark- (We used images from the book)
Preparing your Skittles set:
Jazz up the toilet rolls by covering them in colored paper (This can be a tedious task. Kids can certainly help but parents might like to prepare this step ahead of time.)
Attach the shark image to the ball. (We didn't have a suitable ball, so we covered a ball with two green balloons. The balloons gave us a surface on which we could glue the shark image)
Playing the game:
Set up the Skittles (We set our Skittles on blue cardboard to represent the waterhole)
Count the creatures waiting in the waterhole
'One turtle, four snakes, and 10 scared fish in the waterhole.'
Some great characterization took place while playing the game. Cam took it upon herself to commentate the game, 'Are you scared little fishies. I'm coming to get you?'
Watch the creatures swim away.
Count how many creatures swam away and how many bravely stayed in the waterhole.
About the book:
Author, Ros Moriarty, is also the founder of Indi Kindi. Indi Kindi is creating a range of reading and counting materials for Indigenous children to help improve literacy outcomes in their communities. The books are designed with the inclusion of familiar cultural themes to help children learn to turn pages, look at pictures, count, see repetition, and use memory. A proportion of income from the sales of these books helps to support the Indi Kindi program.
As you can imagine, the story of 10 Scared Fish is very simple but effective. The story involves counting, but the text is repetitive and also includes some basic prepositions. Images are large which allows children to count along with the story. Also included at the back of the book is a Yanyuwa (Indigenous language of Borroloola, NT) translation of the story.
Matched with bold Indigenous art by Balarinji, this counting book features groups of creatures (whose numbers increase with each page turn) happily swimming in a waterhole. That is until they are met by a great shark. Then they promptly scurry away.
Book Details:
Author: Ros Moriarty
Illustrator: Balarinji Studio
ISBN : 978-1742379128
Format: Paperback
Publisher: Allen & Unwin, March 2012
Suitable for ages: 1+
Also in the series: Kangaroos Hop (A book about animals and verbs)