A few months ago we had some friends over for a formal lunch. Cam was desperate to help as her dad and I frantically worked to get the house ready. Her dad had a brilliant idea, and asked her to create place settings for the guests.
I loved her place cards and put them away in a special place as a keepsake of one of Cam's first writing records. I recently  fished them out when I decided that they'd make great additions to our Christmas lunch table.
Cam is still in the pre-writing phase (although she has progressed from cursive scribbling to symbols and letter attempts), but I still encourage her to write. You can read more about  the importance of pre-writing.
My main aim is to make sure that writing is enjoyable and meaningful for Cam, so I don't give her formal pre-writing tasks to complete. Instead, I give her opportunities to write, and I let her write at her own pace. She attempts to write letters that she has come to recognise through our reading and through her own observations in the environment around her.
What she is learning is that her writing (symbols) has meaning and conveys a message- and she's having fun in the process.
What you need
Heavy-stock paper or cardboard (cut into small rectangles and folded)
Our approach
One letter at a time, I simply told Cam which letters she needed to write to create each guests' name.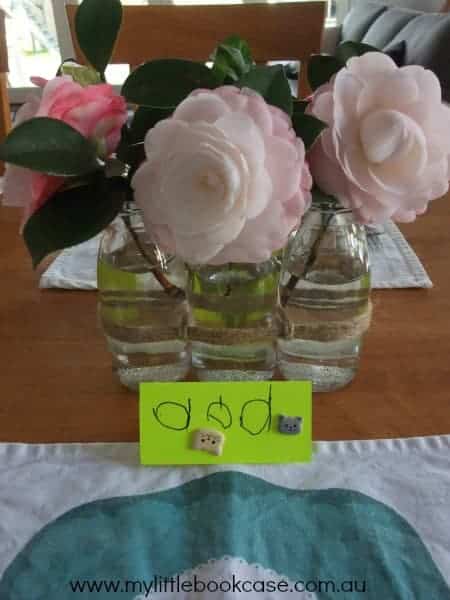 Cam wrote the letters on the place cards based on her knowledge and recognition of the letters (If you wanted to, you could provide your child with a copy of the alphabet)
She then decorated the cards with stickers
She was so proud of her place cards that she couldn't wait to show the guests when they arrived.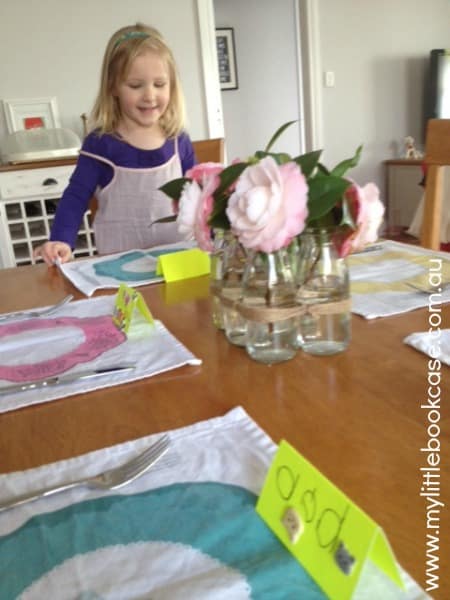 To make Christmas place cards, simply provide your children with festive coloured paper (e.g. red and green) and Christmas themed stickers.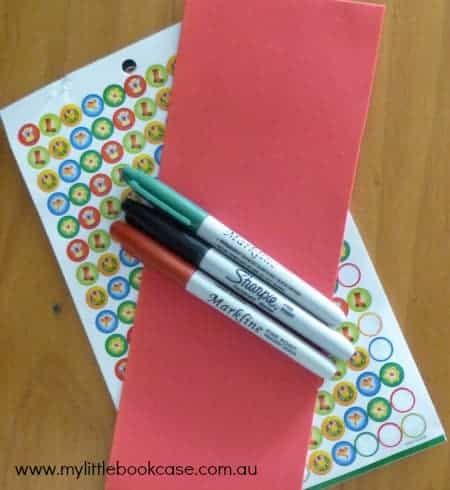 IF YOU WANT YOUR CHILD TO ENJOY MEANINGFUL WRITING (no matter what age or stage they're at),MAKE SURE YOU CHECK OUT THESE WONDERFUL IDEAS:
Shopping Lists
Shopping Lists ( Nurture Store)
Grocery Shopping (Rock a Bye Butterfly)
Shopping List for Charlie and Lola Afternoon Tea (My Little Bookcase)
Letters
Invitation to Charlie and Lola (My Little Bookcase)
Writing to Fairies (My Little Bookcase)
Letter to Santa (Childhood 101)
Love Notes (My Little Bookcase)
Secret Messages ( What Do We Do All Day? )
Gratitude Postcards ( The Good Long Road)
Monster Note Cards (Picklebums)
Birthday Cards
Home Made Cards (Octavia and Vicky)
Toddler Made Greeting Cards (Learn with Play at Home)
Menus
Playdough Coffee Shop (The Fairy and the Frog)
Playdough Pizza Parlour (Nurture Store)
Post Office Play
Post Office Play (Octavia and Vicky)
Pretend Play Post Office (Nurture Store)
Creating Books
Creating Books of their Own (Childhood 101)
Garden Journal (Nurture Store)
Lift the Flap Book (My Little Bookcase)
Riddle Book (My Little Bookcase)
Nature Alphabet Book (Imagination Soup)
Story Writing
Photo Journal (Imagination Soup)
Sticker Stories (Imagination Soup)
OTHER WRITING IDEAS:
Writing Box (What do We Do All Day? )
Journal Writing for Pre-Writers (No Time for Flash Cards)
Write Together Read-a-thon (The Golden Gleam)
Supporting Playful Writers (Childhood 101)
Starting a Blog for Children ( Childhood 101)