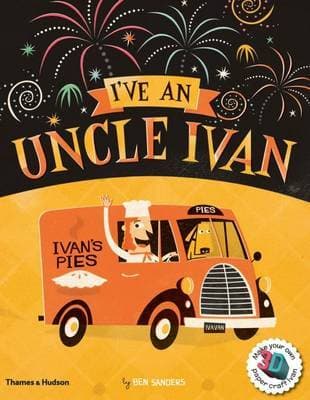 I've an Uncle Ivan is bright and brilliant. It's one of those special books that you love having on high rotation in your home. It's a hoot to read aloud, and there is always something new to spot in the spectacular illustrations.
This really is a fun, rollicking story about a large and uniquely talented family.
The concept of this book is rather clever. Ben Sanders tells an entertaining story, using rhyming text to introduce each member of the Sandini family.  Each family member is hitching a ride to an undisclosed destination, and each is using a different mode of transportation.  You'll read about Winnie who drives a mini, Sam who catches a tram and Michael who rides a unicycle.
Of course, you'll need to read to the end of the book to find out where they are all headed, but you'll find lots of clues, both subtle and cryptic, carefully placed throughout the illustrations.
Ben complements his read-aloud story with illustrations that are sharp and bold; they're not unlike illustrations you would find in a retro picture book. This is Ben's first picture book, after attaining incredible artistic experience in the commercial field. I do hope that this is the first of many picture books to come.
To add to the fun, you can also pop out a 3D papercraft template from the back of the book to help you create your very own pie van.
You can find further book details at the end of this post.
I can't show you the pages from within the book but I can share lots of photos from the launch of I've and Uncle Ivan.
I do enjoy a good book launch, but this particular launch far exceeded any of expectations. Hosted by the creative teams from Lamington Drive and Thames & Hudson, it truly was a spectacular event, loaded with fun activities for the kids, and informative displays for any picture book enthusiast.
I think the photos give you a wonderful indication of the fun and creativity behind I've an Uncle Ivan.
Ben's first picture book signing:

Personal book inscriptions make this girl happy (and just look at that scooter, which was a cool prop for the launch):

Hoola-hooping for the kids:

A paper-craft table:

A balloon artist:
A balloon version of Ivan's pie van:
A chalk road-way:

A slide show of the book on continuous rotation:

Rough cover sketches:

A book print-run page (before it is trimmed and bound:

A print exhibit:

A full house:

A personal reading:

An illustration demo:

And a happy Baby Ike, who loved his first book launch event:

Book Details
Author and Illustrator: Ben Sanders
ISBN: 978-0500500361
Format: Hardback
Publisher: Thames and Hudson (Australia), April 2013
RRP: $24.95 (aud)
Suitable for ages: 3+
Awards: Shortlisted for the Association of Illustrators (AOI) Illustration Awards in the children's book category.
Purchase the book:

You can find this book in your local bookstore, or purchase it online from: