This review was originally written for the The Food Issue (#3) of tiny and little, published in July 2011.
You might also be interested taking a look at our huge list of children's cookbooks.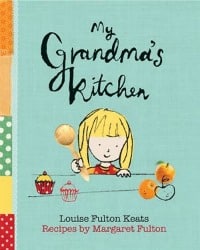 My Grandma's Kitchen is a children's cookbook which exudes warmth, love and an appreciation for delicious food. Aussie cooking icon, Margaret Fulton, has obviously had a tremendous impact on her children and grandchildren.
This cookbook screams nostalgic cooking. It is obvious that its contents come from the heart of Louise and the memories that were created alongside her Grandma. Margaret Fulton has left a legacy for her family and through the publication of this cookbook is now leaving one for a generation of Australian children.
My Grandma's Kitchen is essentially two books in one. Aligned with a gorgeous little story are simple and enjoyable recipes. The story is narrated by a young Lulu who writes about her adventures in the kitchen alongside her Grandma and brother, George. Told in a child-like-rhyme, the story shares meals eaten, conversations spoken, fancy terminology, and cooking tips and tricks.
The cookbook is divided into four sections; Breakfast, Lunch, Afternoon Tea and Dinner. Most of the recipes are simple and child-friendly, such as pikelets, margarita pizza, vanilla cupcakes and macaroni cheese. Other recipes offer a foodie twist to a traditional kid's favourite, such as croque monsieur, chicken herb sandwiches and beef ragu with spaghetti.
I'm noticing a trend amongst cookbooks. They are becoming works of art;  Books you'd leisurely flick through while relaxing on the couch, as opposed to spoiling with cake batter and milk rings as they sit on your kitchen bench. My Grandma's Kitchen is certainly one of these books. Rather than sitting in the kitchen with the other cookbooks it takes pride of place alongside our favourite picture books.
My Grandma's Kitchen has been designed in the style of a scrapbook. It's bright, colourful, alive, glossy, eye-popping and engaging. Designed by Michelle Mackintosh, the images are a compilation of mixed mediums. Images of real life props such as paper lunch bags, eggs, cakes stands, utensils and terracotta pots are combined with the most adorable hand-drawn illustrations. The artistic technique almost makes the images jump right off the page and into your kitchen.
Doesn't it sound wonderful? See more at the official website
Book Details:
My Grandma's Kitchen
By Louise Fulton Keats and recipes by Margaret Fulton
ISBN: 978-1742701141
Format: Hardcover
Publisher: Hardie Grant Books, April 2011
RRP: A$29.95