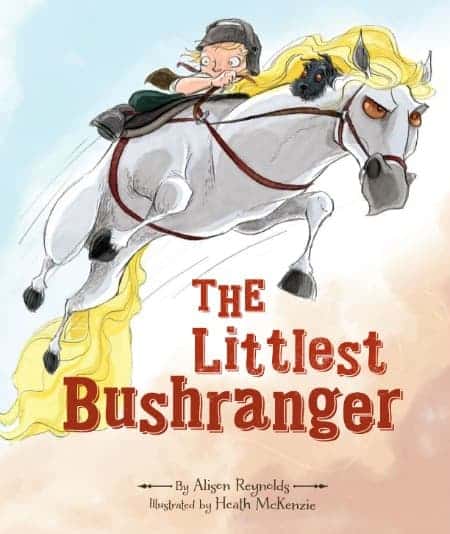 The Littlest Bushranger was published last year, but I've found myself thinking about it this week as children prepare to return to school for a new year and younger siblings are left behind. I'm an eldest child, so I'm not sure how this feels but I do have a son and I know he is going to miss his older sister terribly when she returns to kindergarten.
The Littlest Bushranger is read on high rotation here. It taps into that wonderful imagination and playfulness that children so expertly exercise, and demonstrates that children need very little to conjure up the wildest of adventures. Siblings are not in fact always necessary.
The Littlest Bushranger is brilliantly written and illustrated. It cleverly turns a little boy's backyard adventures into a story that's epic enough for the history books.
Lil knows her little brother will miss him and is kind enough to leave him with something special to play with while she is at school- her telescope. Although Jack doesn't leave his backyard, the telescope becomes the centre of a wild adventure. He manages to battle a snake and navigate his way through a rainforest, a desert and a billabong as he retrieves his telescope from a pesky outlaw; all with the help of his trusty steed.
As Jack takes the return trip to meet his sister at the gate, the illustrations reveal that Jack's adventure was made possible with the help of his bike, a hose, garden plants, a sandpit, and a blow-up pool.
Alison's imagery is splendid, full of exciting verbs and graphic adjectives that create a thrilling story. Teamed with illustrations that use shadow and perspective to add suspense to the story, this book is an absolute winner with children.
The Littlest Bushranger Book Details:
Author: Alison Reynolds
Illustrator: Heath McKenzie
ISBN: 978-1743464977
Format: Hardback
Publisher: Five Mile Press, 2013
RRP: $14.95
Buy the Book: