Regularly on My Little Bookcase we feature books that are fun and light-hearted. Rarely do I publish posts about topics that are raw or difficult. Likewise, many authors shy away from writing about difficult topics.
But the reality is that one in five people will experience depression at some point in their lives, and many of these people have children. Life can be difficult for children with a parent who suffers from a mental illness such as depression. It can be scary, uncertain and confusing.
Sharon McGuiness has bravely drawn on her own difficult and heartbreaking experience to write a book for children, in the hope that she can help them understand why their parent may appear sad and distant. She also visits My Little Bookcase to share some strategies to help children of parents who experience depression.
BOOK REVIEW: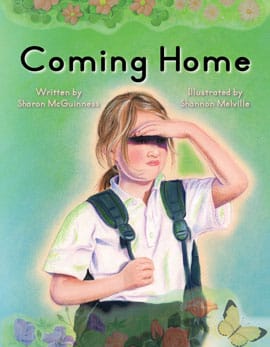 Launched in October 2012, Coming Home gently describes the ebbs and flows of depression: the dark moments and the warm moments that a sufferer might experience. Sharon and illustrator, Shannon Melville, use the garden as a symbol of these contrasting periods.
Sharon's gentle and carefully selected words describe the body language and behaviour of Gemma's dad; of looking but not seeing, of being hunched and slumped, of staring, of disappearing.
Does he care about me?
Why doesn't Dad want to play with me anymore?
Did I do something wrong?
These are some of the questions Gemma asks about her dad, who suffers from depression. She seeks answers from her mum, who tells her to keep supporting her dad.
Gemma continues to talk, laugh, dance, play music and sit with her dad until the colour comes back into his world.
Shannon Melville's illustrations are touching. They are incredibly life-like, and show the emotions of the characters through their facial features, hands and body language. Her illustrations begin in black and white, and colour slowly begins to creep in as Gemma's father 'comes home'.
Book Details:
Coming Home
Author: Sharon McGuinness
Illustrator: Shannon Melville
ISBN: 978-1921633775
Format: Hardback
Publisher: Wombat Books, October 2012
RRP: $24.95 (aud)
Guest Post: Practical strategies to help children of parents experiencing depression
It is with great honour that I welcome Sharon McGuinness to My Little Bookcase today.
Coming Home is one resource that parents and teachers can use to help children of parents experiencing depression. Author, Sharon McGuiness has kindly put together a list of other strategies and resources that could be used.
*********************
When my husband needed to be hospitalised for his severe depression, we had to explain it to our children. Not only the illness, but why Dad had to go into hospital to help him get better. Listed below are some of the strategies we employed, including upon his return home.
Honesty
Children appreciate parents being honest about family issues. Parents can explain the symptoms of depression, the fact that the parent may have to go to hospital for a short stay to help them get better, or that they may have to take some medicine to help them recover. It's essential to be reassuring and to keep the discussion simple.
The organisation Children of Parents with a Mental Illness (COPMI) has some printable sheets for a variety of age groups on their site: http://www.copmi.net.au/parents-and-families/parents/discussing-mental-illness.html
The site has many other useful links for children and teens as well as parents which provide information and practical strategies.
Resources from COPMI:
Enjoyable activities
Enlist the help of children when trying to alleviate the symptoms of depression. Go for a walk together, play a game that you both enjoy, read a favourite book.
Children's Activities
It's important that children have their own activities outside the home, including social, sporting and hobbies. This enables them to maintain good contacts and can offer a break from home routines and environment.
Other picture books dealing with mental health