I first wrote a version of this post for Culture Street, but with the birth of the new member of the British Royal Family, it felt fitting to publish these tips for choosing baby books on My Little Bookcase.
Books make the best gifts. However, buying books for a new baby can be difficult. You want to find books that will be practical but will also last the test of time. Here is a list of book types to look out for when shopping for a new baby.

1. Cloth books
Cloth books are always great for babies because they are durable and tactile, which means they can chew and suck on them to their heart's content without damaging the book. This is such an important task to help babies develop a love for books.
2. Black and White Books
It takes a while for a baby's vision to develop, which is why contrasts and patterns stand out for babies. Although many contrasts exist in the environment, black and white offers the highest contrast.
3. Classic Books
A classic book is one that will be enjoyed by a baby, but one that the baby will still pick up with fondness when they are an older child or adult. Often classic books are ones that parents enjoyed when they were a child themselves.
Always on the list for a baby's first library are books such as Peter Rabbit, Dear Zoo, and The Very Hungry Caterpillar, but I personally love the contemporary books based on well-known classics.
4. Books about a baby's day
Apart from talking to your baby regularly the best way to help a child develop a rich vocabulary is to read books that they can relate to. Books that will gain a child's interest are simple and short books that reflect their own everyday activities and adventures.
5. Repetitive and rhyming books
Books with rhyme and repetition have a soothing, lyrical rhythm that babies love. Listening to rhymes from an early age is also known to assist child's language and literacy development. What makes these rhyming books extra special is that they allow you to mix-up story-time by singing the stories instead of reading them.
6. Textured and Puppet Books
I think interactive books with textures will always fascinate kids, and puppet books are fantastic for babies. Alongside a fun story, they provide an object of focus and movement for a baby.  They're sure to make babies giggle too. Books that feature holes for your fingers, such as Hervé Tullet's finger book series, are also a great way to make a story engaging for baby- and don't babies just love to pull at your fingers?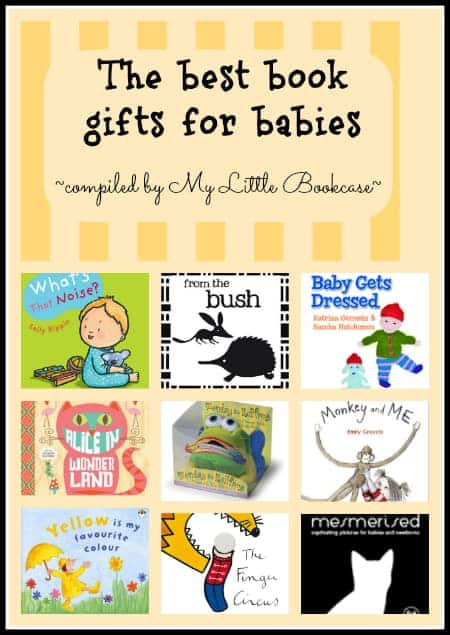 Crinkly Book of Aussie Animals by Jill Brailsford (Walker Books), 2013
There are four books in this crinkly, cloth book series, From the Bush, From the Nest, From the Outback and From the Ocean. Australian animals are featured as black silhouettes in all books, and matching each image is a two word sentence. The sentences describe an infamous action of each animal. This creates a great invitation for the reader to act out the invitation to baby.
Mesmerised is an 18-page, small format board book made up of black and white images. Each double page spread features a silhouette image of an animal or creature and an associated pattern. For e.g. a bird and a twirling branch, a ladybird and polka dots, a cat and a trail of paw prints, a snail and a spiral. This book is distinctive and beautiful for babies to look at, but its wordless nature also allows you to make up a different story to tell your baby each time you share the book together.
What's That Noise? Go Baby Go, Hush Baby Hush, and Where is Baby? By Sally Rippin and Craig Smith/Ann James/Lorette Broekstra (Allen & Unwin), 2008
These are my favourite board books to read to babies. They are gorgeous, practical and simple. The illustrations are adorable and the text relates to the simple events that take place throughout a baby's day.

These sturdy board books are most certainly a treat for literature-loving parents to read to their children. The books can be enjoyed from a young age, but their classic nature and beautiful styling also mean that the books will remain life-long and beautiful keepsakes. With a cleverly selected text and bold, bright graphics and patterns, Jennifer Adams and Alison Oliver have produced books that are sure to capture the attention of little eyes and introduce them to some well-known classics such as Alice in Wonderland, Romeo and Juliet and Jane Eyre. You can read more about the series here.
Baby Gets Dressed by Katrina Germein, Sacha Hutchinson (Working Title Press), 2009
Featuring bright illustrations created with beautifully textured fabrics, each page sees a selection of colourful apparel laid out before the baby. The rhyming prose takes the reader through the process of dressing a baby from nappy to hat. There is also the subtle inclusion of colours and patterns in the story.
Monkey and Me by Emily Gravatt (Pan Macmillan), 2008
This board book is brilliant in its simplicity. Its rhyme, repetition and rhythm make it superb for babies. The illustrations are predominately black and white with pops of red, which depict a child and her toy monkey imitating the actions of animals at the zoo.
The beauty of this simple but gorgeous book is that you can extend it by adding your own actions and sound effects to the story.
Monday the Bullfrog by Matthew Van Fleet (Simon & Schuster), 2011
Monday the Bullfrog is a large, colourful and striking puppet. His mouth opens wide to reveal a story about what the bullfrog likes to eat each day of the week. Babies will love interacting with the range of textures found on each page including tails, wings and a mirror.
Are there any books that you like to buy for babies?