It's Monday, which means, along with  What Do We Do All Day? No Twiddle Twaddle, Smiling Like Sunshine, Mommy and Me Book Club, and Mouse Grows, Mouse Learns, we bring you another edition of The Children's Bookshelf.
The Children's Bookshelf gives bloggers the chance to link up any book or reading-related post so that we have a collection of amazing posts in one place that helps us inspire a love of reading in our children.
Each week, I feature a number of my favourite posts that were linked up to The Children's Bookshelf.
Featured Post of the Week:
Just for Daisy: We're Going on a Bear Hunt Felt Book
I've seen lots of ideas for engaging children in the story We're Going on a Bear Hunt felt book by Michael Rosen. This idea offers a sensory experience for children. Bek from Just for Daisy created a felt book for her daughter, which includes textures and flaps. The best part of this project is that you don't need a sewing machine to create it- just a glue gun.
Also well worth a visit and a read are:
Off the Shelf: Monster-Mashed Potatoes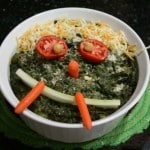 I love the idea of getting creative with food presentations, especially when we invite our children to get involved.  This wild and monstery meal is one that Max from the infamous Where the Wild Things Are would surely be happy to eat.
Mommy and Me Book Club: Pouch
I love any book that features the adorable native animals of Australia, and although I haven't read this book myself I was excited by the fun array of reading activities in this post that were inspired by a kangaroo's pouch.
Vintage Books for the Very Young: Childcraft Poems and Rhymes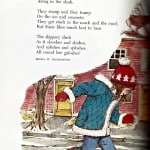 Anyone who loves vintage children's books will most definitely get pleasure from scrolling through this post. I know I did.
So if you have a children's book or reading-related post you'd like to share, please consider joining The Children's Bookshelf Linky Party:
How to join:
Every Monday visit The Children's Bookshelf, hosted at one of the following blogs: What Do We Do All Day? No Twiddle Twaddle, Smiling Like Sunshine, Mommy, and Me Book Club, My Little Bookcase and Mouse Grows, Mouse Learns. You can link up your post at any time during the week and it will be displayed on all six blogs.
Link up your children's book-related posts. We love posts about book news, reviews, reading tips or any other book-related items you think will be of special interest to parents.
Consider adding The Children's Bookshelf button or text link to your post to let others know where the book party is. You can grab the code from the box underneath the button below. Click the text, copy it, and paste it into the HTML of your post.
Visit other posts and share your comments. We want this to be an interactive community of book lovers.
Follow the The Children's Bookshelf on Pinterest, where we will be featuring some of our favourite posts from the link-up every week.
By linking up you are giving permission for any of the co-hosts to pin and/or feature your photo on a future The Children's Bookshelf post.