When I visit a bookshop, I'm always on the hunt for beautiful books that are a little bit different, unusual, unique, and quirky. It feels truly wonderful when I stumble upon something out of the ordinary.


I actually spotted these uber-cool Baby Lit books before Easter (in a garden nursery gift shop of all places), and I finally had a reason to purchase a couple. We bought Alice in Wonderland and Romeo and Juliet as gifts for friends, but Cam is desperate for some copies of her own- onto the Christmas Wish List, they go.
Published by Gibbs Smith, these sturdy board books are most certainly a treat for literature-loving parents to read to their children. I think they're also perfect for babies and toddlers (and secretly, I think they make a nice change for babies who receive too many Peter Rabbit and Winnie the Pooh treasuries).
The books can be enjoyed from a young age, but their classic nature and beautiful styling also mean that the books will remain life-long and beautiful keepsakes.
Author, Jennifer Adams, has cleverly introduced babies to some otherwise unlikely authors (Lewis Carroll, William Shakespeare, Jane Austen, and Charlotte Bronte) by selecting appropriate settings, concepts, characters, and basic plots from well-known classics.
Alison Oliver has illustrated the books with bold, bright graphics and patterns that are sure to capture the attention of little eyes.
In the series:
Alice in Wonderland (978-1423622024) is my favorite book of the series. It is a colour book that introduces babies to the white rabbit, the orange cat, and the blue caterpillar,  and also to pink flamingos, red hearts, and a yellow teapot. Available to purchase online.
Romeo and Juliet (9781423622055) is a number book that begins with one balcony and ends with 10 kisses. Very sweet. This book is also available for purchase online and is also available for iPhone and iPad.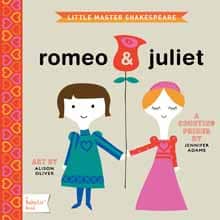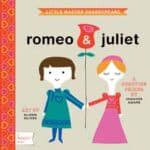 In Pride and Prejudice (9781423622024), babies will learn about one English village, two rich gentlemen, three houses, and four marriage proposals. This book is also available for purchase online and is also available for iPhone and iPad.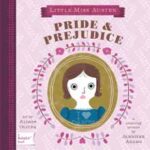 Jane Eyre(9781423624745)  is a 1-10 counting book. Children are encouraged to count governesses, candles, trees, insects, chalkboards, and books.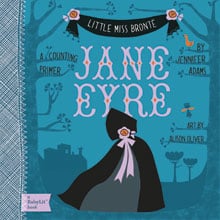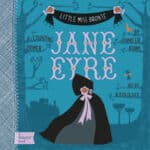 …………and coming in time for Christmas (I haven't seen this one y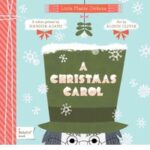 et) is A Christmas Carol (9781423625759). You can have a sneaky peek here.
Series Details:
Author: Jennifer Adams
Illustrator: Alison Oliver
Publisher: Gibbs Smith, 2012