With National Families Week coming to an end, we thought this would be a lovely book to feature. It is a great invitation for you to explore your own family. We've also featured some other noteworthy books that represent different types of families in this book list.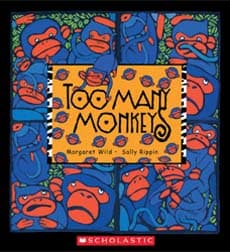 A remarkable story apt for read-aloud fun by award winning author, Too many Monkeys is an eloquent story about a nuclear family of 5 monkeys  - Dad, Mum, Eenie, Meenie and baby Bo, living in a tree in the forest that's a nice snuggly fit for their amicable family.
But the arrival of a surprise with a knock knock on the trunk of the tree sets off the chain of events that has them moving from tree to tree in search of the perfect one to accommodate them all.
It sure is a lovely surprise to see Granny and Grandpa and Milly, Billy and Tilly and everyone else in this family reunion, but with it arises a crisis of squishy squashy proportions along with amusing antics of tickling tails, bottoms on heads, and toes up noses leaving them all bunched up like bananas!
Sally Rippin's distinctly radiant illustrations compliment the repetitive prose and comical text that together work a treat to draw endless giggles.
This is a simple engaging story about family relations and a great starting point to converse about the significance of grandparents and other kin in fulfilling family functions.  It also demonstrates the importance of residing together in harmony, whilst respecting personal space.
Related Activities:
This book is great for acting out, especially if children have cousins and adults who are game enough to join in.
Design and make your own monkey mask

Make a tree for the monkey's family
Build your own family tree. You can make it as simple or complex as you want. Might be a good idea to do it at a family gathering as a group activity. You can also use photographs of family members to make it special.
Book Details:
Author: Margaret Wild
Illustrator: Sally Rippin
ISBN: 9781862915619
Format: Paperback
Publisher: Scholastic Australia, 2004
RRP: $15.99(aud)