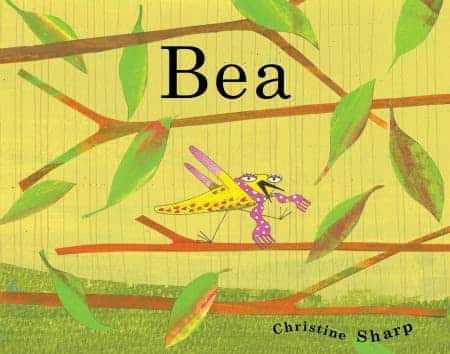 Bea is a quirky and warm book to read with children. It has a reassuring message that being yourself, no matter how different you are from the crowd, is okay. In fact, it's more than okay; it's worth celebrating.
Bea is a bird, although you wouldn't know it based on her interests, actions and dreams. She doesn't like to peck at ants, fluff feathers or build nests like the rest of her flock. Instead, she enjoys baking biscuits and dancing to disco beats. But more importantly, Bea has a special friend who loves her and her unusual tastes.
Bea may have unique interests and dreams, but most empowering of all is her attitude. She is confident and enthusiastic about life. And I dream that all children could feel that way about themselves.
I admire Christine Sharpe for capturing the qualities of early childhood in her debut character. My daughter Cam, like many toddlers and pre-schoolers, is much like Bea – with quirky interests, a thirst for learning and without inhibitions. I just hope she doesn't lose that passion for life, which is why Bea has become one of my favourite books to read to her.
Christine has created multi-media illustrations, using layers of landscape photography with various fabrics and foil. She has teamed the collages with sweet watercolour and coloured-pencil illustrations. When collage is done well readers are treated to a visual feast, and that is just what Christine has created with her first picture book.
Bea likes to dress up and dance to disco beats, while the other birds flock together and fluff their feathers.
Our favourite feature in this book is the beautiful use of alliteration, which is typeset beautifully across the pages. The words just roll off your tongue as you read the story aloud. It does make for a highly enjoyable read but it is also a wonderful language feature for children. It subtly assists in their recognition of letters and sounds.
For some fun word and letter hunting, take a look at our Book Detective activity. You might just see a few sneaky peeks of Bea.
Book Details:
Author and Illustrator: Christine Sharp
ISBN: 978-0702249617
Format: Hardback
Publisher: University of Queensland Press, March 2013
RRP: $24.95 (aud)
Suitable for ages: 3+