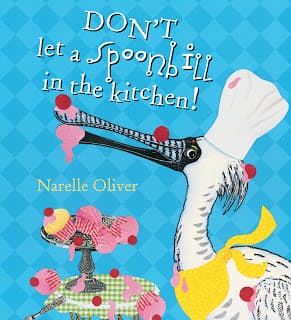 This is one of my favourite books of 2013. The concept, the text, and the images are all so incredibly unique.
Don't Let a Spoonbill in the Kitchen is a successful fusion of fact and fiction, and of nature and nonsense, that results in an extraordinarily entertaining read.
The book is an absolute feast for the eyes, which starts at the cover and becomes more appealing when you open to the endpapers (you might remember me sharing these endpapers in the #mylittlebookcase Instagram challenge).  The book is full of rich, eye-catching, textured images that Narelle has created using a combination of linocut art, cut paper, photographic elements and bright colours.
The book takes on a recurring structure, where over the course of the book 6 different bird species are introduced to the reader.
Firstly, Narelle describes a bird, using the most beautiful imagery. The distinctive features of each bird provide the focal points for her verses. The text is accompanied by striking black and white linocut images of the birds set against subtle backgrounds that depict their natural habitat. Even the typography effectively portrays each bird's physique.
I see a cormorant
With wings stretched right out wide
To dry like all the washing pegged up
In the sun outside
Readers are then warned of the chaotic scenes that follow upon turning the page. The double-page scenes are colourful and frenzied interpretations of what might happen if each bird was invited into a different human environment. Spoonbills splatter icing all over the kitchen, cormorants nest in a pile of underwear and pelicans strew luggage all over the airport lounge.
Now just in case you're wondering if
He'll soak and spin-dry too,
I have a strong suggestion that
I'd like to share with you…
DON'T let a cormorant in the laundry
It's these scenes of mayhem that make Don't Let a Spoonbill in the Kitchen such a playful book, which also introduce birdlife and the concept of habitats to children. It truly is a book that children and adults will thoroughly enjoy reading.
Book Details:
Title: Don't Let a Spoonbill in the Kitchen
Author/Illustrator: Narelle Oliver
ISBN: 978-1862919310
Publisher: Omnibus Books for Scholastic Australia, April 2013
Format: Hardback
RRP: $26.99
Suitable for ages: 3+
Follow-up Activity:
Invite your kids to create their own silly scenes. Click on the image below for more details: