When it comes to Christmas books, Tea and Sugar Christmas is the pinnacle for me. As a self-professed foodie, I fell in love with what I thought was a cute title. But, this book goes far beyond the cutesy Christmas tasks, fun traditions and rhyming texts we've come to see in most modern Christmas books. It tells a true Christmas story, one that is historically Australian and represents many Aboriginal and migrant workers of the outback.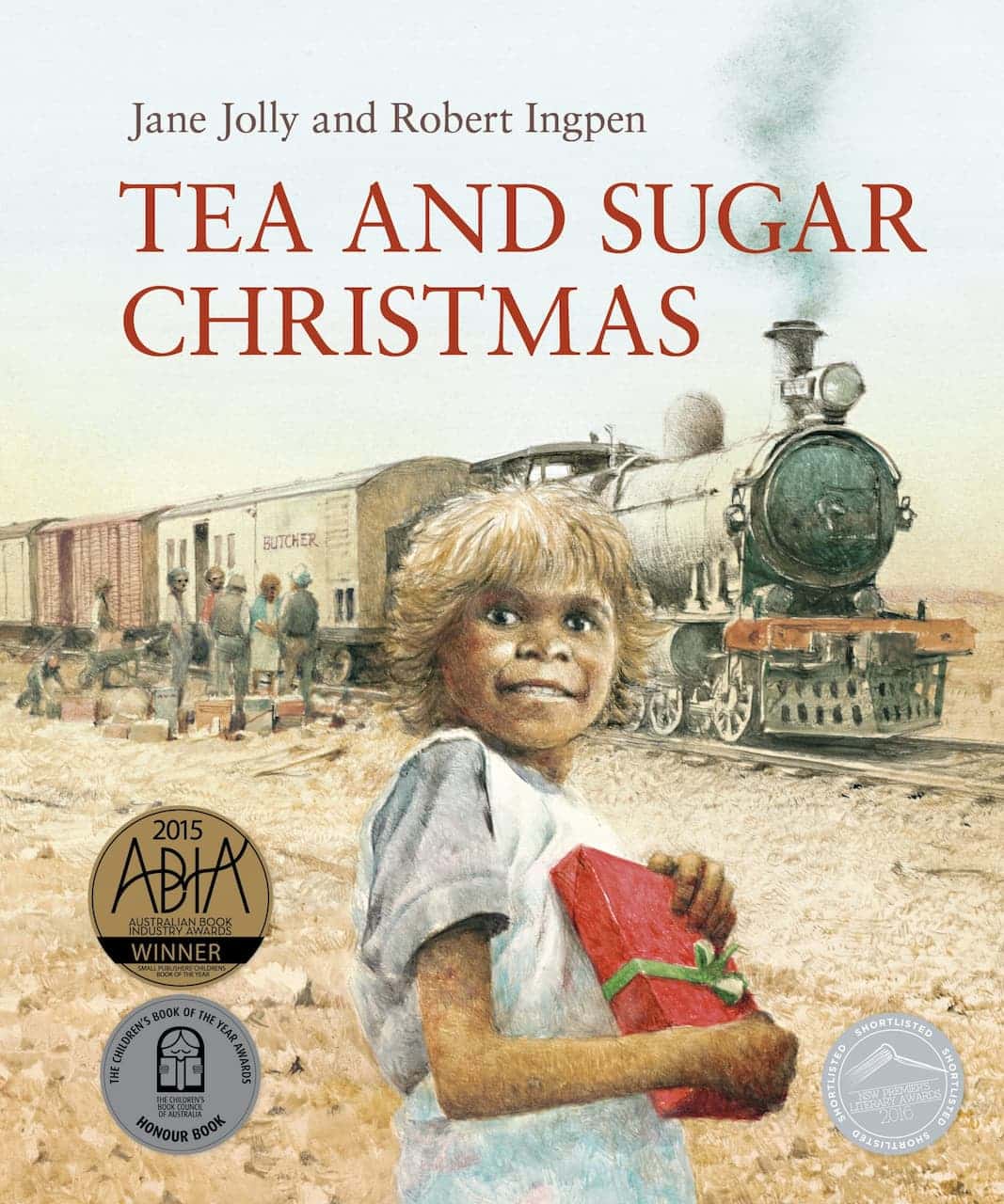 Tea and Sugar Christmas is a story based on the Trans-Australian Railway train that would travel for decades across the Nullarbor Plain. Its carriages provided groceries, meat, household provisions, medical staff and bank services to workers who lived in isolated settlements. Just once a week settlers could access the train, filling their wheelbarrows with stock to last them the week.
And just once a year, the train carried a very special visitor. One of the locomotive inspectors would dress as Father Christmas, bringing joy and gifts to each of the children who often dressed in their best clothes to meet him.
This story is Kathleen's. Her anticipation, excitement, joy and gratefulness jump out from the words and illustrations and straight into our hearts.  As readers we are right there with her as she waits for the train in the searing heat and when she first glimpses Father Christmas as the carriage door slides open. Adults will be reminded of  how wondrous Christmas is for children, especially children who want for very little.
Black and white pages fold out to reveal exquisite large-scale colour illustrations by renowned illustrator, Robert Ingpen, that you will no doubt pore over  for hours. The book also features photos and images taken during the Sugar and Tea Train era. It truly provides a wonderful insight into an interesting aspect of Australian history.
Although based on true events, Tea and Sugar Christmas is a sincerely magical story for adults and children alike. In my opinion, it is a must-have for all Australian families.
Buy the book:
Book Details:
Author: Jane Jolly
Illustrator: Robert Ingpen
ISBN: 9780642278630
Format: Hardcover
Publisher: NLA Publishing, November 2014
RRP: $24.99
Like this post? Stay connected:
Be sure to join one of our communities for more literacy-based inspiration, or subscribe to our mailing list so you don't miss out on future posts.