The English language consists of 44 sounds, but only 26 letters, so it's understandable that children find the relationship between letters and sounds complex and confusing at times.
What is the best way to help children understand the relationships and spelling options? There are some children who might pick up rules easily (such as 'The letter C makes the /s/ sound when followed by the letters I, E or Y'), but the best thing you can do for your child is expose them to language from an early age. The best way to do this is to read, read, and read a little bit more, especially good rhyming stories. Word games are also a lot of fun.
That's what makes Parrot Carrot such a wonderful book for young children. It combines reading with a word game.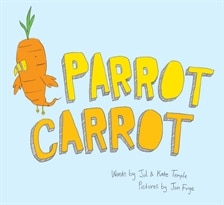 Parrot Carrot is a little book with a padded hardcover. It looks deceptively simple, but in fact, it provides children with a fun way to explore, what could otherwise be, complex sounds, letter combinations and rhymes.
Jol and Kate Temple take two rhyming words (an animal and an object) and mash them together, and Jon Foye very cleverly depicts their creations in quirky illustrations. You'll see a snake that looks like a rake and a hawk that looks like a cork. There's certainly nothing like a bit of nonsense that will get you and your kids chuckling.
We thought the creations were so funny, that we decided to construct our own parrot that looks like a carrot.
The same format is followed on each page, so your kids will be reading along before you know it. You will probably even find that this is a book that your child takes away to read freely by themselves. Our family members think our two-year-old daughter is a genius as they listen to her reading Parrot Carrot independently- but it's all about sound, rhyme, repetition, predictability and the illustrations; which are all key pre-reading elements for helping children develop an understanding of the English language.
I love that when describing themselves on the last page of the book, the authors have even rhymed their own names. Jol apparently looks like a foal, and Kate looks like a plate. You'll finish reading this book and your kids will want to rhyme their own name, then you won't be able to stop them from rhyming.
In fact, if you want a helping hand there's an app you can download. I don't want to see e-books replace tactile picture books, but I do think it's exciting to offer children a computerised supplement to picture books.
Book Details:
Authors: Jol  and Kate Temple
Illustrator: Jon Foye
ISBN:978-1742376868
Format: Hardcover
Publisher: Allen & Unwin, November 2011
RRP: A$12.99
Recommended Age: 18 months+