Mem Fox. You all know her books, but did you know that she 'believe(s) that reading aloud cures pretty well everything'?
To me, Mem is the Queen of Read Aloud. Mem and I are well and truly on the same page when it comes to the value of reading aloud. At almost every paragraph in the book I found myself nodding vigorously in agreement and whispering 'uh huh' under my breath.
Mem writes with confidence,  conviction and passion about her beliefs on the power of reading aloud. She is a wonderful children's book author in her own right but she is also highly qualified and knowledgeable in the area of literacy. Regardless of her qualifications, this is an easy read for parents. She writes comfortably and with honesty as one parent talking to another.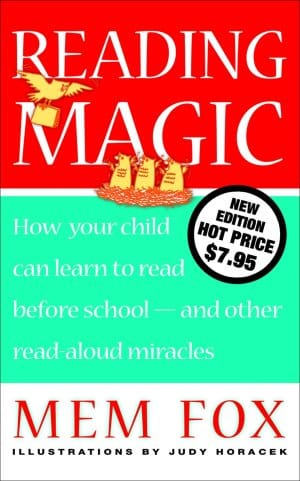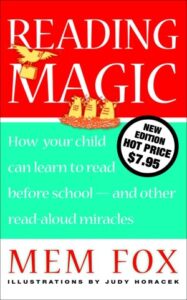 The beliefs and views she presents in her book are not solely based on statistics and research but on real people; real families that she knows personally and real parents and children she has encountered in her work. I truly appreciate the successful stories she shares about parents who are not educators but have 'accidentally' reaped the rewards of reading aloud with their children because they simply enjoyed it, not because it was on the 'things we should do with our children's list.
The advice Mem offers is simple and practical, from reading regularly with your kids to filling your home with books. She is bold and honest. She is not afraid to share her opinions on some conscientious issues such as phonics and television, and she supports her views with simple examples and experiments that are difficult to argue. She is also an advocate for having fun with books and reading aloud. The book is full to the brim with fun ideas. My only criticism is that there is not a quick go-to page for these games and activities. Instead they are practically written within the context of relevant chapters.
Topics covered in Reading Magic include the three secrets of reading, trouble shooting, and reading with boys, and Mem also includes 20 of her favourite books for children.
Enjoy this honest, practical and extremely affordable parent resource.
Title: Reading Magic
Author: Mem Fox
ISBN:978-0330422222
Format: Paperback
Publisher: Pan Macmillan Australia, September 2005