Here are three precious books published within recent months, perfectly timed for the National Year of Reading. They are all very different but they share one important quality. Each of these books has a strong message about the ability books have in transforming lives. These books advocate reading, libraries and sharing books with the people around you.
With the messages of these books underpinning the philosophy and aims of My Little Bookcase, they have all most certainly edged their way into my heart.
I can't recommend these books any more highly, and I think any book lover would appreciate them. Every classroom and book-loving family should definitely have a copy as a constant reminder of the beauty and power of books.
Book Review: The Children Who Loved Books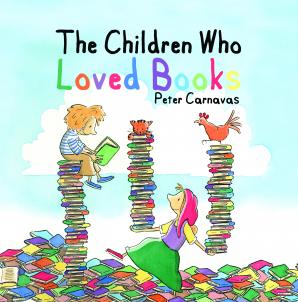 Can you imagine a life without books? In Peter Carnavas' latest book, The Children Who Loved Books, he reminds us how easily individuals can fill their lives and hearts with books.
This is a simple story with a strong message and suitable for young children.
For me, Peter Carnavas' illustrations are normally the highlight of his books, and he doesn't disappoint this time. A quirky but sweet family is portrayed in his charming and vibrant illustrations.
The Children Who Loved Books is the story of Angus and Lucy, who have very little in their lives except for the hundreds of books that fill their caravan-home. The books are read and enjoyed by the family, but they also become pieces of furniture.
The books are eventually taken away when their caravan can't hold the books any longer. Lucy and Angus feel lost and their family lose their closeness without books.
Thankfully the family discovers the library, a hive of joy where they can borrow and return books as they fancy and share their love of books with others. The family re-connect and find happiness again.
'They huddled beside the lamp and listened to the story'
The message here is that if you have access to a library then your life can be rich; Money and possessions aren't all it takes to be happy.
Book Details:
Author/Illustrator: Peter Carnavas
ISBN: 978-1921928161
Format: Hardback
Publisher: New Frontier Publishing, June 2012
RRP: $24.95
Suitable for ages: 3+
Book Review: Look, a Book!
This poignant book is stunning in every way, from its sparse text to meaningful images.  Libby Gleeson and Freya Blackwood have cleverly constructed a book that gives the reader licence to interpret the story as their own.
Libby Gleeson's powerful narrative surprisingly has very little text. She describes the importance of caring for a book as a treasured item.
'Let's hold it close, free from all the dust and the dog and the rain.'
Freya Blackwood's sketchy and whimsical illustrations are at their best, and add another element to the story. She portrays two children who live in a neglected community with a barren landscape, ramshackle homes and scrap heaps.
The children find a book. It takes them to a new world; one they can only dream about. The book encourages them to use their imagination and takes them on wonderful adventures where the previously undesirable landscape becomes a place of wonder and excitement.
They get to the end of the book and can't wait to read it again. With each reading, the children invite more and more of their community members to join them on their journey.
You won't finish reading this book with a dry eye, but you will understand the power books can have in making a difference to the lives of children and adults- especially those born into underprivileged circumstances.
Book Details:
Author: Libby Gleeson
Illustrator: Freya Blackwood
ISBN: 978-1921541803
Format: Hardcover
Publisher: Little Hare Publishing (Hardie Grant Egmont), October 2011
RRP: $24.95
Suitable for ages: 4+
Awards: CBCA Picture Book of the Year, 2012- Shortlisted
Book Review: The Fantastic Flying Books of Mr. Morris Lessmore
This book is a delightful read, and the story behind its development is equally as delightful. Although the idea for this book came first, due to many circumstances, an app and an Academy award-winning short-film preceded it.
The book was initially inspired by William Morris, an advocate for libraries. After Hurricane Katrina, William Joyce also witnessed the power books gave displaced children in shelters. These experiences motivated the story and are heart-warmingly evident throughout the book.
The book is about Morris Lessmore who loved books and stories so much that his own life became a book.
One day Morris' life was thrown upside down when a strong storm passed and destroyed everything Morris knew, even his books. With bit of optimism and magic, a squadron of flying books lead him to a library.
'It was filled with the fluttering of countless pages, and Morris could hear the faint chatter of a thousand different stories, as if each book was whispering an invitation to adventure.'
The flying books in this story are books with lives of their own, and Morris found delight in caring for them. It didn't take him long to realise that even as people grow old, the books around them stay the same, and each has a story to tell as long as people keep reading them.
William Joyce is a brilliant story-teller. The illustrations, too, are rich and captivating, and there are lots of special details to look out for. Take a peek at the book here.
Children will be entranced by this story of fantasy, imagination and magic. The metaphor behind the story is much more philosophical; It will help adults understand what is important in life- and books are on that all important list!
This is a wondrous book full of whimsy, gentleness, humour and meaning. It becomes even more enchanting every time you read it.
Book Details:
Author: William Joyce
Illustrators: William Joyce and Joe Bluhm
ISBN :978-1442457027
Format: Hardcover
Publisher: Atheneum Books for Children (Simon and Schuster), July 2012
RRP: $19.99
Suitable for ages: 4+
Awards: Academy Award for Best Animated Short Film, 2012