I take great pride in selecting, reviewing and sharing the most beautiful children's books with my readers and their families, and today I'm featuring a book that far exceeds beauty. It is divine not only because of its beautiful illustrations but also because of its story, which tackles aging, death and grief.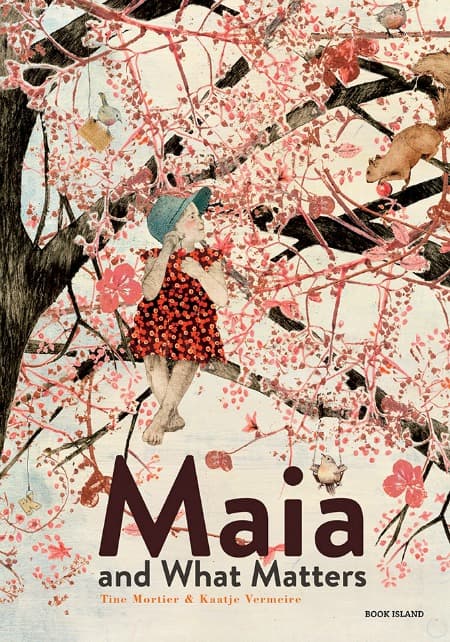 Maia and What Matters is a popular Belgian picture book, which has recently been translated and launched by Book Island in New Zealand, Australia and the UK. Book Island has kindly given me permission to share with you some of the stunning illustrations from the book. I encourage you to visit some of the other blogs on the 'Meet Maia' tour to view other images from the book.
Maia and What Matters is a heart-wrenching story of a young girl who experiences loss in many forms. To a stroke, she loses the grandmother she knows and loves; she witnesses her grandfather sitting lifeless in his chair; she watches her mother arrange things for the funeral and she is by her grandmother's side as she grieves.
Tine Mortier has written an incredibly emotive and meticulous story about Maia, a beautiful young girl with a lively spirit and an active imagination. It starts with a detailed description of Maia's birth under a cherry tree in which she 'pressed and pushed and kicked' her way out into the world.
Maia's relationship with her grandmother is central to this story. Their friendship sees them running around the garden, eating cake, telling stories and climbing trees. The use of bold text is cleverly used to portray the thoughts of Maia and her grandmother. It helps us to understand the depth and warmth of their relationship with one another, and with the world around them.
They grumbled that it was a hospital, for goodness' sake, not a playroom.
And they said they couldn't find a thing in there.
Maia just shrugged.
Blah-blah. They can't tell me what to do. I'll draw a ship.
'Fip,' said Grandma.
Maia drew a bird.
'Sird,' said Grandma, and her mouth dragged on the right.
So it is understandable that Maia responds with confusion and shock when she sees the effects of the stroke on her grandmother. She doesn't like her new Grandma at all. Although she experiences confusion and grief, Maia fills her Grandma's room with pictures and handmade objects despite protests from the nurses. When no one else can, it is Maia who understands what Grandma is trying to communicate and it is Maia who gives Grandma what she needs after her husband passes away.
Printed on beautiful matte pages are layered illustrations that are whimsical and beautifully textured. Kaatje Vermeire has used a range of strategies to convey the range of emotions experienced by Maia in this story. Each page is different from the next, told through various uses of colour and technique.
Stamping and textured paintings of pastel pinks and luscious greens represent life, joy and friendship. The use of collage, together with warm browns and natural hues represent friendship and sadness. Black, white and grey silhouettes represent confusion and loss.
Proportion and scale are also used skilfully by Kaatje.  The enormity of some images on the pages is breathtaking and contributes to an authentic empathy for Maia.
This is a truly remarkable children's book; it tackles the difficult topic of death and grief with such grace and tenderness. It leaves readers with a sense of what matters, that we can't avoid loss but we can build friendships that help us through the grief.
WIN A COPY OF MAIA AND WHAT MATTERS. ENTER HERE.

Children's Book Details:
Author: Tine Mortier
Illustrator: Kaatje Vermeire
Translator: David Colmer
ISBN: 978-0987669667
Format: Hardback
Publisher: Book Island, November 2013
RPP: $29.99 ($NZ)
Suitable for ages 5+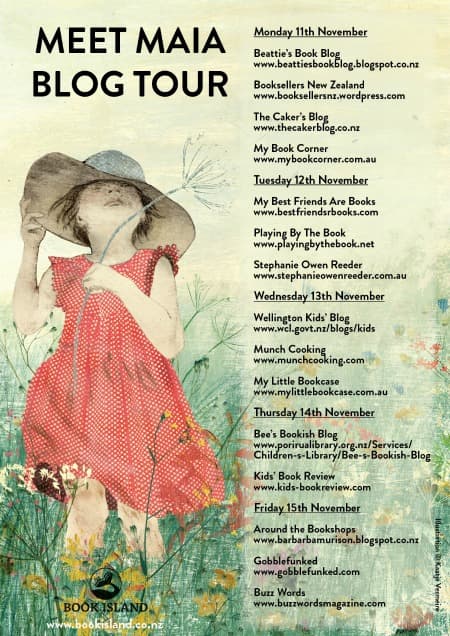 This review has been part of a wider blog tour to launch Maia into the world beyond Belgium. Visit Book Island for the full tour schedule or travel with Maia to the next stop on the tour, Porirua Library, to read about using books during difficult times.