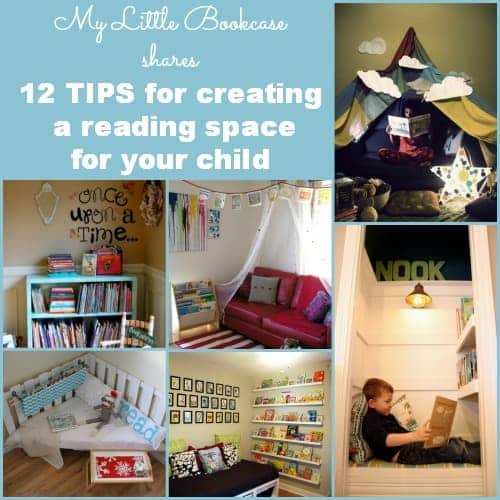 The importance of a special place for your child to read should not be underestimated. It is a place made especially for reading books, a place that invites you to be calm and quiet, a place where you can be alone with your favourite characters, a place where you can get lost in a wonderful story, a place where your imagination will be stimulated and a place where a love of reading begins.
Below we provide you with 12 elements to think about when designing and setting up a reading space for your children. We've also included images of some extremely creative and beautiful spaces that will hopefully inspire you.(Click on the images to be taken to the original source for more further information)
Take your time
Before you set up a space, take the time to watch your child interact with books until you notice a pattern of the types of places they like to read. This will help you set up a space that your child will feel comfortable in and willingly visit.
Space
Provide ample space in your reading area for your child to invite you or another guest (parents, grandparents, siblings, friends or special dolls and teddies) to join them in a story.
In fact,  it would be nice for a few regular friends (a.k.a. soft toys) to live in the space permanently. Reading stories aloud to toys is great for language development.
Temperature
Set up the reading space in warm place within the house. You might even like to add a blanket to the space. No one can enjoy a book with cold feet.
Light
Set up your reading space in a light-filled room and have a lamp set up for night-time reads.
Book storage
Don't overload the space with too many books, but make sure there is storage for a few books that are easy for your child to access. We can't speak highly enough of forward facing book shelves. You could even try baskets or boxes too. Along with some favourite books, we also suggest rotating the books you store in this area. They might be books that have been borrowed from the library or books based around a theme or time of the year.
Comfort
Create a comfortable and cosy space for your child. It could be a comfy couch, beanbag or a whole heap of cushions. There are so many options but the idea is that your child can relax their body and feel comfortable.
Quiet
Try to set up the reading space in a quiet part of the house  away from distractions such as television, dishwashers and washing machines. This will help your child to focus on the book they are reading.
Inviting
You want the reading space to be a place that your child enjoys visiting. Children will be keen to visit the reading space if it is aesthetic and inviting. You can do this with bright colours, cute décor or with your child's favourite items. We love idea of using wording from your child's favourite book on the wall.
Privacy
I've caught children (my daughter included) hiding away in the smallest of nooks with a book. Sometimes they like to get away from the hustle and bustle of family life and escape to a private space where they can get lost in a book without being bothered or distracted. This could be something to consider when setting up your reading space. Tee Pees are an easy way to create private spaces.
A book haven



A reading space should be a place where books are celebrated. You can do this by displaying original book illustrations,  book inspired prints or art created from some vintage book pages.  Books Illustrated sells original artwork from Australian picture books.
Ownership
Invite the kids to have some input into what they'd like in the space. Let them be involved in creating the space. For example, Childhood 101 shared a great idea of making a bunting using the front covers of a child's favourite books.
You might also consider  making the space personal for them by adding personalised items.
Multiple Spaces
If you have the space within your home, it is ideal to set up a number of different reading spaces in the house so children have a range of spaces they can visit to read a book depending on their mood and book choice. There's also no reason why you have to limit your reading space to the indoors either.
Want more inspiration?