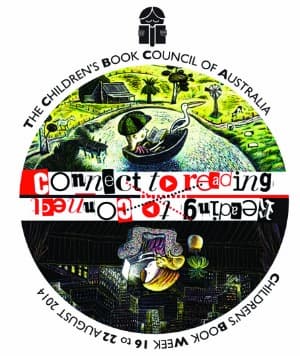 The theme for the Children's Book Council of Australia Book Week 2014 is CONNECT TO READING: READING TO CONNECT. I just love that this theme  can be interpreted in so many ways. I'll be dedicating my next few posts to the theme, sharing with you a range of simple and playful ways you can help your children 'connect to reading.'
My first post in this series is for young children. When I think of young children, I just know the best way to help them connect to reading is to give them the freedom to simply play with books.
Here are 10 simple ways that children can play with books:
1.  Build a tower of books. Can your kids measure their height in books? How many books does it take? Which books are best to use when building a tower? Beware: this activity requires patience, balance and the hands of a surgeon- ha ha! Once complete, you can spend the rest of the day reading and perusing the books in your tower! (See our tower here)
2. Transport books. Use a wheelbarrow, wagon or pram to move books from one place to another.
3.  Use board books as ramps for baby play. Visit Learn with Play at Home for more details.
4. Build roads and bridges with suitable books. Visit Learn with Play at Home for more details.
5.  Be a book doctor, and have fun repairing damaged books. Find out what you need to become a book doctor here.
6.  Use books as background scenes in small world play. Get some more ideas here.
7.  Set up a home library, complete with borrowing cards. Find links to free library printables here.
8. Open your own pretend bookshop (When Cammy plays, she likes to run special storytime sessions with her toys- take a look here).
9. Host a pretend book launch and book signing party, like this one we hosted. Or you could go all out to write, publish and launch a real book (See our book launch).
10. Run a book scavenger hunt., using our FREE 'Book Scavenger Hunt' printables. We played something similar on Instagram last year, using daily prompts to search for books on our bookshelves- take a look.
STAY CONNECTED:
Like this post?
Be sure to join one of our communities for more literacy-based inspiration, or subscribe to our mailing list so you don't miss out on future posts.