Here is a tender story of war. Anzac Biscuits is a story that goes beyond the experiences of soldiers. It shows the private moments of families who are left behind to worry about their fathers, brothers, uncles and sons.
Laid out over alternate pages, Phil Cummings cleverly tells two stories simultaneously. A young man fights a war on the other side of the world while his wife and daughter bake Anzac Biscuits for him.
Despite being separated by war, they are connected through literary and visual symbols: A mother puts on her flower-patterned apron while the solider lies in a field of flowers; the mother and daughter sprinkle flour and oats like snowflakes onto the kitchen bench while the soldier walks through falling snow; the daughter licks sticky treacle from a spoon while thick mud sticks to the soldier's boots; smoke drifts from the wood fired heater while the soldier peers across the fields to see the smoke of angry guns drift into the air.
The mother and daughter seem happy to be baking. They laugh and sing. But, at the heart of this private moment, they are missing their husband and father. As the daughter nibbles on a warm Anzac Biscuit she wonders whether her dad will love them too. And he does because bundled together with the biscuits and a note from his daughter is the spirit of love and care from his wife and child.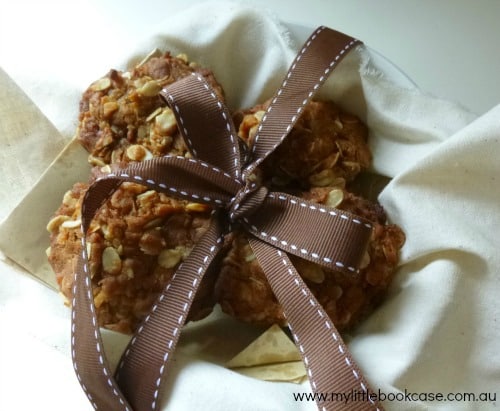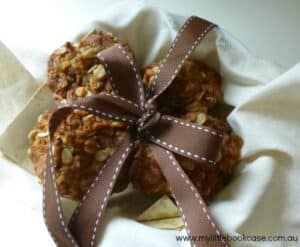 Owen Swan's illustrations are breathtaking. His separate use of pencil sketches and watercolours captures the different moods and emotions in the scenes of the alternating stories. His grey and charcoal coloured pencil sketches depict the dark moments on the battlefields, whereas his watercolours in golden shades depict the warmth and love of a family home back in Australia.
The illustrations lend themselves to a visual literacy study in the classroom. There are beautiful little details on the pages that provide readers with clues as to the timing and setting of these stories.
Although this is a tender and subtle story of war, there are some graphic descriptions of war field activity (e.g. blinding flashes, shots, the smoke of angry guns and choking smells) that make this book more appropriate for school-aged children. I took the liberty of reading one part of the story to my pre-schooler.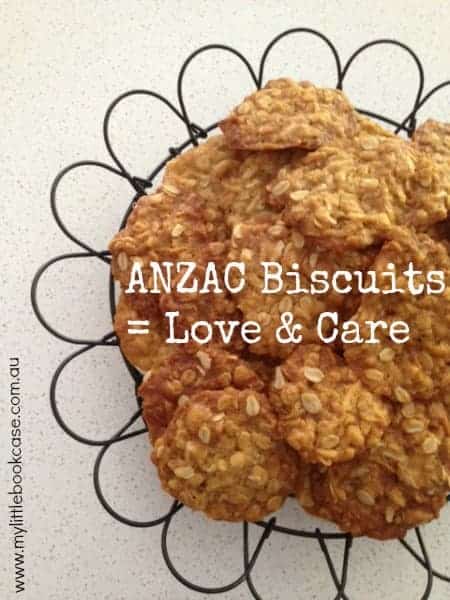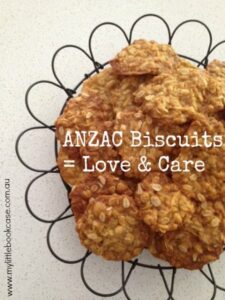 It's important for children to understand the history of Anzac Biscuits. They were baked for soldiers because they were nutritious and could last the journey to the other side of the world. They also reminded soldiers that their loved ones were thinking of them.
Anzac Biscuits have now become a common treat for Australians, and they are now eaten all year round. But, just as Anzac Soldiers possess a remarkable spirit, so too do Anzac Biscuits; they represent love and care.
Children can bake Anzac Biscuits and put together a care package for any friend or relative who needs a bit of love.
Cam and I made an ANZAC care package for her auntie who recently had her first baby. We used this printable recipe from the Scholastic site, but you might also like to check out the lovely recipes listed below.
We baked some ANZAC Biscuits
Once the biscuits were cooled, we wrapped them up in brown paper and calico,  and attached a special note.
Book Details:
Author: Phil Cummings
Illustrator: Owen Swan
ISBN: 978-1742833460
Format: Hardback
Publisher: Scholastic Australia, March 2013
Suitable for ages: 6+