We had some egg hunt practice and it was inspired by some fun and colourful Easter books. Creating experiences for our children is a wonderful way to help them make sense of the stories they read.
Our Background Story:
We've been reading a lot of Easter books in our house lately, and most of them feature an Easter egg hunt. My little girl was keen to have an Easter egg hunt of her own, and as we learned from all of the books listed below, you can't have an Easter egg hunt without an Easter egg basket.
There are so many types of baskets that we could have made. We decided on the fluffy Easter Bunny basket for a few reasons:
1. We were able to use items from around the home without having to spend money on new art supplies.
2. Gluing cotton balls into a box is an achievable task for a toddler. This type of basket is not too difficult.
3. The finished product is appealing to a toddler.
As it turns out my daughter adores her Easter Bunny basket. It does its job as an Easter egg basket, but she is also looking after it like it is her special pet.
You will need:
A box (Re-use a box that you have around the home. We used a Cruskit box)
Eyes (You could use googly eyes. For children under 3 you might prefer to draw eyes)
Our Approach:
1.      Re-seal any opened edges of the box you are using
2.      Cut out the top face of the box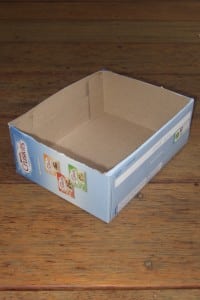 3.      Use this piece of cardboard to draw and cut out bunny ears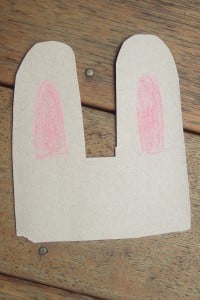 4.      Using glue, cover each side of the box with cotton balls
5.      Also cover the front and back of the bunny ears with cotton balls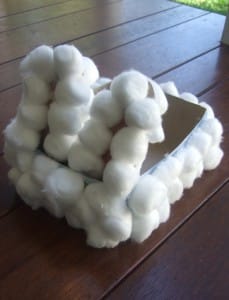 6.      Glue the ears to one end of the box
7.      Colour two cotton balls to use for the nose and tail
8.      Attach the eyes, nose, tail and whiskers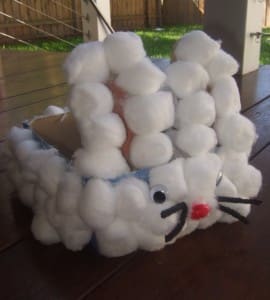 9.      Cut a long strip with the cardboard
10.   Staple this to two sides of the box to make a handle
11. Finish the Easter basket with tissue paper or basket filler