This is a simple but cute story about a little girl's search for five colourful eggs.
Here Comes Easter has it all for any toddler who delights in books: textured elements, flaps to lift, and a toddler's trusty friend.
A number of textured objects feature throughout the book, starting with a basket- an essential item for any good egg hunt. Textures are a great way to introduce toddlers to some common adjectives like rough, bumpy, and fluffy.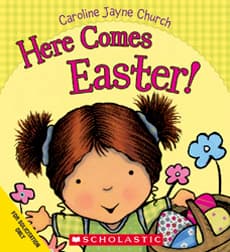 The story is about a toddler who sets out on an adventure to find five eggs. Her pet cat is never far behind as they search among plants, cakes, socks, and marbles to find the eggs.
After filling their basket with five eggs, the toddler and the cat follow a trail of jelly beans until they reach a beautifully wrapped Easter egg. The egg sits patiently on the last page waiting for the reader to reveal the surprise hiding inside.
This is a fun and colourful book that will get toddlers excited about participating in an Easter egg hunt of their own.
Buy online: from The Book Depository
Search for other Easter books

Book Details:
Title: Here Comes Easter
Author: Caroline Jayne Church
ISBN:978-0545118163
Format: Board Book
Publisher: Scholastic, 2010
Recommended age: 0+