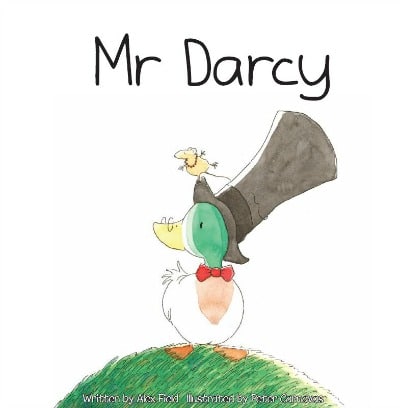 If you're a fan of Jane Austen or an admirer of Mr. Darcy then you must get your hands on a copy of this book.
Pride and Prejudice is regarded as Jane Austen's most popular novel, and now it can be enjoyed by the youngest of readers. The adorable animal-characters dressed in top hats, bonnets and beads will certainly be a winner for the little ones.
By adding some child-friendly twists, Alex Field cleverly introduces young readers to the main characters, settings and basic plot of the story. The charming illustrations by Peter Carnavas simply add more delight to this new adaptation of Pride and Prejudice.
Mr. Darcy is a refined little duck who lives alone in the prestigious Pemberley Park. He is invited one day to enjoy tea with Lizzy and her sisters, a family of ducks who live in a more ordinary park.
Mr. Darcy thinks too highly of himself to befriend ordinary ducks, and he very impolitely ignores Lizzy when they pass one another in the village.
When Mr. Darcy finds himself in a sticky situation, it is Lizzy (along with Bingley and some other friends) who kindly helps, despite his rudeness towards her. Thankful, Mr. Darcy decides to attend the tea party after all and is left feeling loved and no longer alone.
Mr. Darcy offers children an introduction into the writing of Jane Austen. It's a beautiful book for mothers to share with their little girls. Sharing this book now, will have mothers feeling thankful in years to come that they can share their love of Jane Austen with their daughters.  Together, both as adults, they will be able to indulge in a pot of tea and discuss the romantic, interesting and complicated worlds and relationships created by Jane Austen.
Don't think this book is just for little girls though. In all honesty, it's a great book for little boys too; One which demonstrates the qualities of a true gentleman. I also think Mr. Darcy could be a great springboard into a discussion about making friends.
If nothing else, buy it for yourself to add to your Jane Austen collection. It certainly inspired me to dust off the pages of my Pride and Prejudice copy.
Book Details:
Author: Alex Field
Illustrator: Peter Carnavas
ISBN:978-1921042836
Format: Hardcover
Publisher: New Frontier Publishing, 2011
RRP:A$24.95
Suitable for ages: 3+