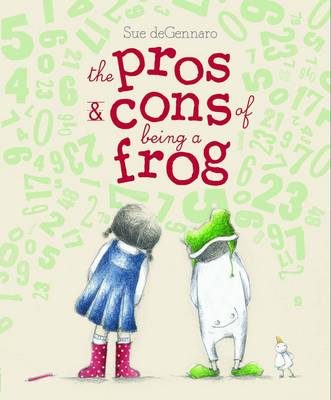 The world doesn't need us all to be the same. Wouldn't it be a boring place if we were? What the world really needs are more picture books like this one that celebrate the differences within friendships, and help children to accept that it is okay to be different.
The Pros and Cons of Being a Frog is Sue's first picture book as an author and illustrator. She has previously illustrated many picture books, including The Vegetable Ark, Button Boy, The Princess and the Frozen Packet of Peas and the Emperor's New Clothes Horse. Sue is an incredibly talented artist. I met her at last year's A Thousand Words Festival, and was impressed by her dedication to her work as an artist. She regularly shares her knowledge and experience at Artplay and the Victorian Arts Centre, when running workshops for children.
I was utterly charmed by this book the moment I first read it (Actually, I think the book had me at the embossed cover). I love everything about it; the quirky title and story, the eccentric characters who aren't afraid to be themselves, the layered illustrations, and the subtle messages; even the varied typeface used throughout the book.
Frogboy and Camille are friends. Frogboy likes to dress-up, while Camille likes numbers. They are different but that's why they like each other.
We identify Frogboy and Camille's personalities mostly through Sue's delightful illustrations. They are so detailed and layered. In particular, Sue's incorporation of numbers into the backgrounds of the illustrations is incredibly effective in helping us to understand Camille.
Frogboy and Camille are both fine examples of good friends. They both go to great lengths to understand each other. Frogboy learns to decode Camille's numerical language and Camille observes Frogboy before offering helpful suggestions.
Like most friendships though, Frogboy and Camille have an altercation and Camille storms off. My favourite page is when Frogboy shouts at Camille to 'Stop wriggling'. His words are interlaced with numbers to show that he is trying to speak Camille's language.
Frogboy finds himself writing a list of pros and cons before finding Camille to apologise. Your heart melts when you see him calmly (and maturely) assessing his feelings and actions.  I think Frogboy is a great model for our own children.
I also had a personal reaction to the story. You see, my daughter is Frogboy. She ALWAYS wants to dress-up and role play. She is also a perfectionist. The dress-ups must be perfect and she is easily upset with me if I don't get my 'lines right'. Sometimes, like Camille, I do just want to walk away.
My daughter picked up on this connection too. After reading the book once, we 'had' to spend the rest of the day playing Frogboy and Camille. She got the characters right too. She saw the similarities between Frogboy and herself. Maybe you might also  know someone like Frogboy and Camille.
The Pros and Cons of Being a Frog is a quirky book with a delightful message. It is a charming book to be enjoyed without any particular intention, but it would also make a wonderful and subtle tool for teachers and parents when helping their children to understand personalities, friendships, disagreements and accepting differences in others.  I'm sure the storyline will strike a chord with most parents and teachers.
Book Details:
Author and Illustrator: Sue deGennaro
ISBN: 978-1742830636
Format: Hardback
Publisher: Scholastic Press, April 2012
RPP: $26.99 (aud)
Suitable for ages: 4+
(★★★★★)