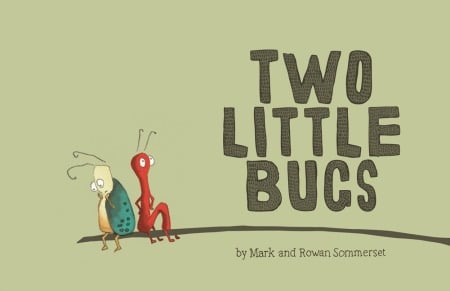 You happily get more than you bargain for with this crafty little book. It skilfully uses the text and illustrations to provide the reader with two simultaneous stories. Together with cleverly designed pages, the themes of friendship, anxiety and life cycles will ensure that Two Little Bugs is a hit with children and families.
Mark's sweet text tells a story of two bugs who share a leaf.  Little Bug Blue finds safety and protection under the leaf. But for Little Bug Red, the leaf is an important food source.
Little Bug Blue is a worrier who would love to experience the sunshine but can't find the courage to climb atop the leaf. While slowly nibbling away at the leaf, Little Bug Red does his best to encourage Little Bug Blue.
Each nibble of the leaf sees a hole in the pages grow larger and larger until only a chrysalis hangs from a stalk (This is a wonderful feature that will delight children with each turn of a page).
It is this nibbling away at the leaf that subtly sets the scene for the second story-line. Rowan's simple illustrations and die-cut pages depict the life cycle of a caterpillar.
The last page sees Little Bug Red realise his purpose while Little Bug Blue is helped into overcoming fears and finally explores a wonderful world beyond his leaf.
Two Little Bugs cleverly and beautifully shares two points of view and amalgamates the life cycle of a caterpillar with the story of taking risks with a friend by your side.
Book Details:
Two Little Bugs
Author: Mark Sommerset
Illustrator: Rowan Sommerset
ISBN: 978-0732296599
Format: Hardback
Publisher: Dreamboat Books (HarperCollins Australia), February 2013
RRP: $19.99 (aud)
Suitable for ages 3+