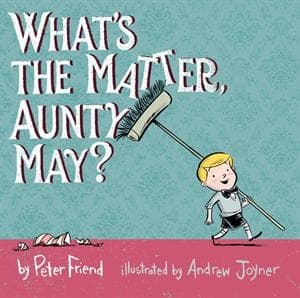 I have some questions, Aunty May.
Why did you shout at me today?
And why were you a little gruff?
Why did you scream, 'Enough! Enough!'
At first glance this seems like a genuinely honest question to pose to Aunty May. A handsome young lad sits perked up on a chair, daintily sipping his cup of tea. His striking attire is impressive and nothing appears to be out of place.
He then begins to recall the happenings of the day, trying to assess what went wrong. What could have possibly happened to leave Aunty May utterly distressed and flabbergasted?
Surely a bit of sweeping, dusting, washing &vacuuming can't do much harm?
Why aren't you happy, Aunty May,
That someone helped you clean today?
As we witness the trail of destruction her nephew has left behind whilst politely trying to offer his assistance, we can't help but feel sorry for our dear Aunty May!
Our clumsily eager young man wrecks havoc of catastrophic proportions through an immaculate house teeming with countless books, priceless antiques and delectable treats.
Will he find the answer to his pressing question? Will his parting words offer any solace?
With rhyming text and whimsical humor this rip-roaring story is perfect to read aloud to your enthusiastic helpers. The outrageously fascinating illustrations with an eye for detail make this book the ultimate portrait of a confident and optimistic childhood.
Book Details:
Title: What's the Matter Aunty May?
Author: Peter Friend
Illustrator: Andrew Joyner
ISBN: 9781921714535
Format: Hardback
Publisher: Little Hare Books (Hardie Grant Egmont)
RRP: $24.95
Suitable for ages: 3+