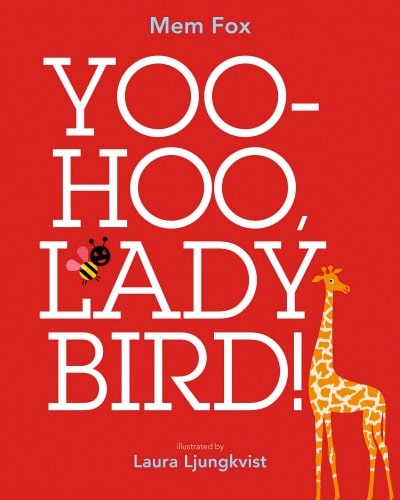 This new book by Mem Fox has my family abuzz.
Visit our home anytime of the day and you'll most probably find my kids and I either reading or playing, so we were jumping for joy to find a book that allows us to do both AT THE SAME TIME.
Mem Fox has an innate ability to write stories that genuinely appeal to children. She mesmerises them with her storytelling and she writes stories that parents are happy to read over and over and over again.
And, this is certainly the case with Yoo-hoo Ladybird!   The book has been brilliantly designed. The watermelon-coloured cover and delicious endpapers will draw you in  but the text, illustrations and  perfectly-timed page turns will have the whole family captivated.
Yoo-hoo Ladybird!, with its repetitive refrain and rhyming text, is a pleasure to read aloud.
'Yoo-hoo ladybird!
Where are you?'
Laura Ljunkvist has created fun-filled pages with her illustrations. You'll know her work from the Follow the Line series of books. The vibrant candy-coloured palette and collage art ooze excitement and fun.
Together, Mem and Laura invite the reader to play a game of Hide and Seek. Readers are given the chance to spot the ladybird who is hiding within collaged scenes of toys, objects, shapes and patterns.
Turn the page and you'll find yourself looking through a monocular to zoom in on that cheeky little ladybird.
I guarantee this book will be a hit in your home because there is something for everyone to enjoy, whether it be the sublime endpapers, brightly coloured pages, rhyming text, striking illustrations or the simple game of hide and seek.
Yoo-hoo Ladybird! Book Details
Author: Mem Fox
Illustrator: Laura Ljungkvist
Format: Hardcover
Publisher: Viking (Penguin Books), May 2013
RRP: $19.99 (aud)
Suitable for ages 2+